(CNN) -- Tiger Woods claims he escaped a fine for his outspoken comments about a tournament official after his four-shot win at the WGC-Bridgestone Invitational on Sunday.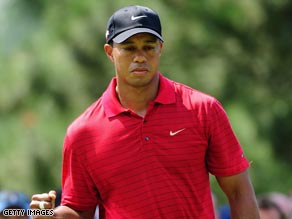 Woods was angered by the intervention of a tour official in the final round at Firestone.
Woods lambasted European Tour referee John Paramor for warning him and playing partner Padraig Harrington for slow play in the final round at Firestone.
Harrington, who led Woods by a shot playing the 16th, appeared rushed after the warning and ended up making a triple bogey eight on the hole to end his chances.
'I'm sorry that John got in the way of a great battle,' because it was such a great battle for 16 holes," Woods said. "And unfortunately, that happened."
Agency reports, not confirmed by the PGA Tour, suggested Woods had been fined for his comments, but the world number one told reporters as he prepared for the PGA Championship that this was not the case.
"Yes, I've heard from the tour, and there's no fine," Woods said. "Was an erroneous report."
The row cast a shadow over another phenomenal performace by Woods, his second win in succession and fifth on the PGA Tour this season after coming back from knee surgery.
It was ideal preparation for the PGA Championship, with Woods aiming to break his duck in the final major of the season after missing the cut at the British Open earlier this month and near-misses at the Masters and U.S. Open.
But Woods claimed his comparative lack of success in the majors this season was not troubling him.
"It's been a great year either way," he said.
"For me to come back and play as well as I've done and actually win golf events; to say at the beginning of the year, when I was feeling the way I was, to be honest with you -- I don't think any of us would have thought I could have won this many events this year."
The 14-time major winner believes that Hazeltine will provide a fitting test for golf's elite.
"The golf course is in phenomenal shape," said Woods. "It's a heck of a lot longer than what we played in 2002. It's just going to be a great test all week."
Harrington, who finished tied for second at Firestone with Robert Allenby, defends the PGA Championship title he won last year as Woods was recovering from the knee operation he underwent after claiming the 2008 U.S. Open crown.
The Irishman will be paired with Woods for the first two rounds, with Rich Beem, who won the title when it was last held at Hazeltine in 2002, the other member of a star trio.
E-mail to a friend

All About Padraig Harrington • Tiger Woods • Phil Mickelson • Vijay Singh • Angel Cabrera • Steve Stricker • PGA Tour • Golf