(CNN) -- South Korea's Yang Yong-Eun's historic victory over Tiger Woods in the U.S. PGA Championship ensured he became the first Asian-born male winner of a major and prompted an excited reaction across the world of golf.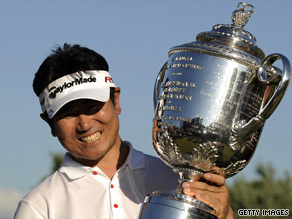 Yang Yong-Eun became the first Asian-born male to win a major after his victory in the U.S. PGA Championship.
The 37-year-old was two shots adrift of overnight leader Woods but kept his cool to card 70 to the American's 75 to win by three on the final green at the Hazeltine National Golf Club in Chaska, Minnesota.
South Korea's president, Lee Myung-bak got up before sunrise to watch Yang become the first player to defeat Woods at a major in which the American held a lead entering the last round and his office confirmed he telephoned Yang to offer his congratulations.
"I woke up at dawn today to watch the broadcast, and you played in a calm manner," Lee is reported by South Korean media to have said to Yang in the call.
"You have enhanced our people's morale by winning the major title for the first time as an Asian."
A handful of Asian players have just been edged out in the majors with Taiwan's Liang-Huan Lu finishing a shot behind Lee Trevino at the 1971 British Open while compatriot Tze-Chung Chen was runner-up to Andy North at the U.S. Open in 1985.
Reiko Takekawa, a writer for the Japanese publication Sports Graphic Number admitted that despite the progress in the women's game it is a real boost for the men's game in Asia.
"We all think it's much, much more difficult for the men. We figured something like this wouldn't happen for another five or 10 years," he told the PGA Web site.
"But, suddenly, it's happening right now. We're pretty much shocked, but also really happy. This is going to be huge news in Japan, too."
And the magnitude of Yang's victory will have on the sport in the region will be huge according to Australian Geoff Ogilvy.
"Golf in Asia has been growing steadily, so to have the guy who finally found a way to beat Tiger on Sunday is so big for the region," he explained. "It's hard for us here in the U.S. to imagine the impact this will have."
PGA president Jim Remy hailed the dramatic finale at Hazeltine as one of the memorable moments in the history of the tournament.

Remy added: "That back-nine showdown between Yang and Woods will be one of the most remembered as one of the greatest golf battles in the game.
"Yang showed as much heart and talent today as you could ever hope to find. He will be a tremendous champion for The PGA of America."
E-mail to a friend

All About Tiger Woods • PGA Championship • PGA Tour • Golf • Lee Myung-bak