(CNN) -- Snooker's world number two, Stephen Maguire, and fellow professional Jamie Burnett have been held by British police to answer questions regarding allegations they helped fix a match at the 2008 U.K. Championship.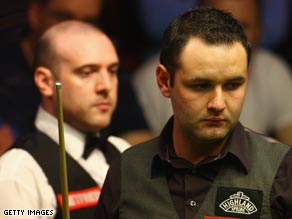 Stephen Maguire and Jamie Burnett playing against each other at the World Snooker Championships.
The two players, who both hail from Glasgow, Scotland, are reported to be helping with inquiries following an investigation into heavy betting surrounding a match in which Maguire beat Burnett 9-3.
Burnett, 33, was on course to make the score 8-4 in frames before he missed a routine black to give his 28-year-old opponent the victory.
Snooker's world governing body opened their own investigation as the irregular betting patterns predicted the outcome correctly, before police followed suit in April.
A Strathclyde Police spokesman said a report would be submitted to the procurator fiscal's office when inquiries were complete.
Both men strenuously denied any wrongdoing, and have pledged to co-operate with any investigations.
E-mail to a friend