By Ben Wyatt
CNN






(CNN) -- Chicago Bulls small forward Luol Deng has told CNN he should be fit to play in his side's preseason clash with the Utah Jazz which will take place in London, England on October 6.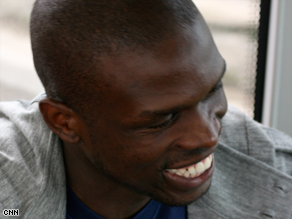 Luol Deng has earmarked an October 6 preseason clash with the Utah Jazz as a possible return
The 24-year-old, who has been sidelined with a stress fracture to his right leg since February, said his rehabilitation has gone well and everything is on track for a return to action.
"The fracture to my leg was such a serious injury but I plan to be back for the game in London," he said.
Pressure has been mounting on the NBA star who signed a lucrative six-year contract with the Illinois-based side in 2008 thought to be worth $71 million. Watch the Luol Deng lowdown.
Having missed a dramatic play-off series with the Boston Celtics, in which seven games went to seven overtimes before the Bulls were beaten, Deng said his hunger is stronger than ever to get back to the court.
"Being out there and not playing, it was still a proud moment and a proud series -- but I can't tell you how tough it is to watch one of the best series in history go on and to be in the roster but not be able to play.
"So that was tough but as a team I think it will help us go forward in the new season."
Deng, who had to count himself out of the Eurobasket tournament -- where he was due to play for Britain between September 6-20 -- will have to contend with the absence of compatriot Ben Gordon when he returns to the team after the shooting guard moved to the Detroit Pistons.
As for the opponents Deng is looking forward to dueling with again, there are two rivals that remain a big inspiration driving his return -- Cleveland Cavaliers small forward LeBron James and Kobe Bryant of the LA Lakers.
"Both are great scorers, both are great leaders. I think Kobe has been there longer and LeBron is getting there faster than anyone - but to have both of them in the same league it just makes you want to step up your own game," he added.
E-mail to a friend