By Ben Wyatt
CNN






(CNN) -- Luol Deng is a well known basketball player for NBA side the Chicago Bulls, who shot to prominence when he signed a lucrative six-year contract with the Illinois-based team, worth a reported $71 million in wages.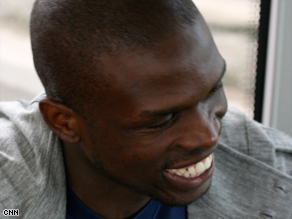 Luol Deng listens to Kanye West and jazz on his iPod
Though Deng can now enjoy the luxurious trappings that comes with being one of the highest paid sportsmen on the planet, the six-foot-nine-inch tall player revealed he has interests similar to any other 24-year-old.
"I like hip-hop music, Kanye West, Lil Wayne, Jay Z and Andre 2000; I like a lot of different cultures [on my iPod]. I like listening to jazz too, a lot of different styles," Deng told CNN.

Watch Luol Deng answer CNN's top ten. »
The hip-hop lifestyle is a long way from Deng's origins; born in war-torn Sudan, the future star of the court left the nation of his birth as a five-year-old refugee when his father decided to move his ten-strong family away from the violence.
A member of the notoriously tall Dinka tribe, Deng's origins gave the young basketball player a clear advantage over his shorter court-rivals, when he first started playing the game in Egypt.
Thanks to mentoring from former Miami Heat center Manute Bol, Deng honed the skills that helped him shine for the England national team -- his family received political asylum in London -- which prompted a move to the United States and the first steps to a glorious future.
The difficult journey which led to Deng's eventual home with the Bulls left its mark on the young rookie.
"I left [London] when I was 14, it was really hard to leave my family and friends to go to the States to try and make it.
"I think making it in the NBA was a big achievement, on the draft night I looked over at my parents and the joy [on their faces] after all that we had been through. A lot of people who come from where I come from couldn't picture themselves up there doing that -- so it was important."
The Arsenal-supporting superstar of the hoops was back in the British capital recently -- which will host a preseason friendly between the Chicago Bulls and the Utah Jazz on Ocotober 6 -- where he told CNN of his affection for the city.
"London is my favorite town because I'm familiar with all the neighborhoods, all my friends are still here, whereas the States is like my place of work."
Deng had to pull out of the Eurobasket tournament, where his British teammates are competing in Bulgaria between September 7-20, due to a stress fracture to a bone in his leg, an injury that kept him out of action for much of last season.
Despite the set-back and subsequent criticism for being an expensive casualty, Deng is confident of bouncing back in time for the start of the coming campaign.

"I feel like the team has given me a lot and I want to give that back. The way I treat pressure is I always work hard and try and show that I'm deserving of it.
"The beauty of it is that I have another season to go out there and prove myself and love the game I play."
E-mail to a friend

All About Luol Deng • Chicago Bulls • NBA Basketball