(CNN) -- Sixth seed Juan Martin Del Potro of Argentina ended the U.S. Open semifinal hopes of Croatian 16th seed Marin Cilic 4-6, 6-3, 6-2, 6-1.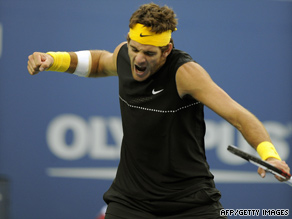 Juan Martin Del Potro celebrates a point against Marin Cilic during their quarterfinals U.S. Open match Thursday.
Del Potro kept unforced errors to 24, less than half Cilic's 53, and converted all of his break points in their quarterfinal match on Thursday. Del Potro, reaching his first U.S. Open semifinals, will face either Fernando Gonzalez or Rafael Nadal, whose quarterfinal match was suspended Thursday night because of rain.
Eleventh seed Gonzalez of Chile and number three seed Nadal of Spain were in their 2nd straight tie-breaking set, with Nadal leading 7-6 (7-4), 6-6 (3-2) when play was suspended.
Nadal, the six-time grand slam winner and reigning Australian Open champion, has been coming off a two-month lay-off due to knee tendinitis, a break that kept him from defending his 2008 Wimbledon crown. Gonzalez's best prior performance at the U.S. Open was as a quarterfinalist in 2002, and he was a semifinalist at the French Open this year.
On Wednesday top seed Roger Federer also fended off a resurgent 12th seed Robin Soderling and two razor-thin tie-breaking sets to reach the U.S. Open semifinals, with a 6-0, 6-3, 6-7 (6-8), 7-6 (8-6) win.
The world No. 1 will face fourth seed Novak Djokovic, who reached the last four for the third year in a row after beating Spanish 10th seed Fernando Verdasco in four sets, 7-6 (7-2), 1-6, 7-5, 6-2.
Saturday's clash will be a record 22nd consecutive grand slam semifinal for Federer.
Don't Miss
In a rematch of his French Open final against Soderling, he won the first two sets in less than an hour but then the Swede fought back to win the third and was within a point of taking the match to a deciding fifth.
"I was ready to go five," Federer told the official U.S. Open Web site. "Mentally I was feeling great. I thought I was moving excellent as well.
"I came up with some awesome shots, and I couldn't ask for more, really.
"I was just trying to stay calm because we went through two completely different phases. In the beginning it was quiet. People wanted him to come back in the match, and all of a sudden it gets super exciting. So it was a tough match to get through."
Federer unleashed 28 aces and kept unforced errors to 26, compared with his Swedish opponent's 45, to pull the win. Federer succeeded in winning 86 percent on his first serve alone.

The Swiss tennis player is seeking his sixth consecutive U.S. Open win, which would cap a year in which he won the French Open and Wimbledon titles and was Australian Open runner-up.
Such a win would equal the feat set by American Bill Tilden in 1925, who then went on to claim his seventh U.S. Open title in 1929.
E-mail to a friend