(CNN) -- Serena Williams' bid to defend her U.S. Open title ended in controversy after the defending champion angrily remonstrated with a line judge at the end of her semifinal match against unseeded Kim Clijsters on Saturday.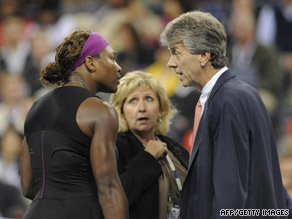 Williams talks to head referee Brian Earley after being penalized in her semifinal against Clijsters.
The Belgian had been a set and 6-5 up when the line judge foot-faulted Williams on a second serve to give Clijsters match point.
Williams turned angrily to shout at the line judge and gesticulated with her racket.
The line official informed match umpire Louise Engzell about the incident and tournament referee Brian Earley came on to the court as matters came to a head.
Should Serena show more respect to tennis officials or was she right to be angry? Sound Off below.
Williams continued to argue with the officials and disputed the version of events given -- before she stormed off to shake hands with Clijsters having realized she had been penalized a point on match point for verbal abuse.
It was Williams' second offense after she was given her code violation for smashing her racket at the end of the first set, although the 27-year-old later revealed her frustration with being called for foot faults.
"I've never been foot-faulted and suddenly in this tournament they keep calling foot faults. I'm not saying I don't. But, I don't know," Williams said in her post-match press conference.
"You know, I'm not going to sit here and make an excuse. If I foot fault, I did. It was what it was, and that's basically all it was.
"I said something that I guess they gave me a point penalty for. Unfortunately it was on match point. I don't remember anymore, to be honest. I was in the moment. And, you know, everyone's fighting for every point."
Clijsters, who returned to tennis last month after a two-year retirement, admitted she was disappointed with the manner in which the match eventually ended.
"Yeah, I mean, it's unfortunate that a match that I was playing so well at to end that way. I just tried to stay away against the back of the court and tried to stay away from everything," she said.

"To this point, I'm a little confused about what happened out there. To be honest with you, I didn't even want to be involved, just because in my mind I was still focused."
Clijsters' 6-4 7-5 win over Williams secured her a place in Sunday's final, where she will play ninth seed Caroline Wozniacki, who beat Belgian teenager Yanina Wickmayer 6-3 6-3 in the other semifinal.
E-mail to a friend

All About U.S. Open - Tennis • Serena Williams • Kim Clijsters • Caroline Wozniacki