(CNN) -- Former world No. 1 Rafael Nadal quickly wrapped up victory in his U.S. Open quarterfinal against Fernando Gonzalez as the predicted continued rain in New York briefly held off on Saturday.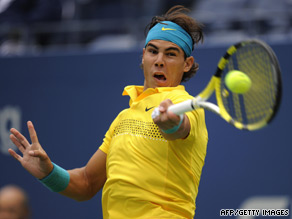 Rafael Nadal is seeking to win the U.S. Open for the first time and return to No. 2 in the world rankings.
The Spaniard had led 11th seed Gonzalez 7-6 (7-4) 6-6 (3-2) before rain stopped play on Thursday, and took a 2-0 lead after winning the first four points of the day upon resumption of play in cool, overcast conditions to clinch the tiebreaker.
Nadal, seeded third after a year of injury problems, then whitewashed his Chilean opponent 6-0 in the third set to set up a semifinal clash with sixth-seeded Argentine Juan Martin Del Potro on Sunday.
However, the rain then returned to delay the start of the men's doubles final.
A break in weather later saw the organizers decide to switch the schedule and start the women's singles semifinals, but the rain came back again to thwart that plan too.
Nadal said the extra time off caused by Friday's washout had allowed him to recover from his abdominal strain.
"Lucky for me," he said. "It was important to have one day off to get better for today.
"I played well, that's very important as well, and Fernando had more mistakes than the last day and that helped me a little bit more.
"It was difficult, coming out to finish the tiebreak. It's a lottery and anything could have happened. Lucky for me today, I won the first four points and that was decisive in the match.
"So I'm very happy to be in the semifinal for the second time in my life at the US Open. It's a very important result for me."
Gonzalez finished with a poor 59 unforced errors -- a staggering 46 more than his conqueror.
Nadal is seeking to complete his collection of grand slam titles with victory at Flushing Meadows, which would also see him regain second place in the world rankings behind Roger Federer.
Don't Miss
He has a winning 4-2 record against Del Potro, but lost to him in the quarterfinals of the Montreal and Miami hardcourt tournaments in their previous two encounters.
"He's a very good player, very solid from the baseline and now he's serving is unbelievable," Nadal said of his opponent. "So I know I have to play my best match here if I want to have a chance to win, and that's what I'll try to do."
In the other men's last-four tie on Sunday, top seed Federer will take on Serbian fourth seed Novak Djokovic.
In Saturday's other matches on the main Arthur Ashe Stadium court, organizers surprisingly initially decided to schedule the men's doubles final before the two women's singles semifinals, which were postponed after Friday's persistent rain.
Third seeds Mahesh Bhupathi and Mark Knowles were to take on fourth seeds Lukas Dlouhy and Leander Paes before the first women's match between Danish ninth seed Caroline Wozniacki and Belgian teen Yanina Wickmayer.
That was to be followed by the clash between former winner Kim Clijsters and defending champion Serena Williams, with the winners of those two ties going into Sunday's final.
The 2008 U.S. Open went into a third week for the first time since 1987 after tropical storm Hannah pushed the men's final to a Monday.
The tournament has been upset by adverse weather a dozen times since 1935 with a six-day postponement in 1938 the longest rain delay.
In 2003, four days were affected by rain, while six sessions were affected during the 2006 event.
E-mail to a friend

All About U.S. Open - Tennis • Serena Williams • Roger Federer • Rafael Nadal • Kim Clijsters