(CNN) -- Roger Federer has earned another Grand Slam finals appearance after beating Novak Djokovic in the U.S. Open men's semi finals.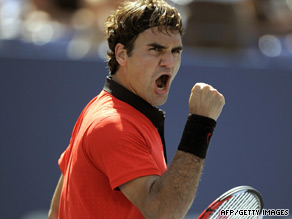 Roger Federer has reached his sixth consecutive U.S. Open final after defeating Novak Djokovic in straight sets.
The Swiss champion beat his Serb opponent 7-6 7-5 7-5, and will now meet Juan Martin del Potro in the final, according to the Press Association.
Del Potro reached his first grand slam final after he crushed third seed Rafael Nadal in their U.S. Open semifinal on Sunday.
The sixth seed from Argentina blew Nadal away at the Arthur Ashe Stadium, taking two hours and 20 minutes to win 6-2 6-2 6-2.
"It's very difficult for me to speak at this moment," Del Potro said immediately following the victory.
"I'm very, very happy, this is my favorite tournament and I can't believe this moment. I'm very close now to my dream to win this tournament. I hope to do it but I'm so happy to be here in this moment. If I win or lose tomorrow, I think this is the best moment of my life."
Don't Miss
Nadal had run out of steam by the time he got to the Flushing Meadows semifinals 12 months ago, losing to Andy Murray in a match stretched out over two days due to heavy rain.
It appeared to be the case again as he was swept aside by Del Potro -- just a month into his comeback from a bout of tendinitis in both knees following the French Open.
The Spaniard had been unable to defend his title at Wimbledon and, in his third tournament since returning following almost nine weeks out, he found no answer to an all-round display of tennis from the impressive 20-year-old.
Del Potro outpowered the left-hander on both serve and return and with forehand and backhand to deny Nadal a crack at completing a career grand slam.
Nadal, the Australian Open champion, pointed to his fitness problems but also credited Del Potro's performance. "Halfway through the season having the problems with the knees and after that it's been difficult," Nadal said.
"But I'm very happy with the way I've come back, reaching the quarterfinals (in Montreal), semifinals (in Cincinnati) and semi-finals (U.S. Open).
"Here and in Cincinnati it was important for me because I also had the right abdominal (injury) and that was a problem for me with the serve. But (Del Potro) has served very well and he's played unbelievable."
E-mail to a friend