(CNN) -- Tiger Woods believes he is back to the best form of his career after he clinched his 71st PGA Tour title with an emphatic eight-shot victory at the BMW Championship in Illinois.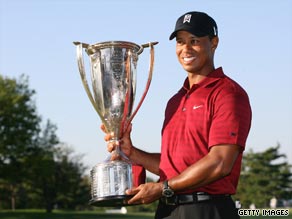 Tiger Woods believes he is in the best form of his life after winning the BMW Championship in Illinois.
Woods led by seven shots heading into the final day after he carded a course-record third-round score of 62 at Cog Hill and refused to relinquish his grip in the final round.
The world number one shot a three-under-par round of 68 to finish with a 19-under 265 total -- with 2005 winner Jim Furyk eight strokes behind alongside Australian Marc Leishman.
Woods, who has now won the title five times, overcame a bogey at the fifth hole to claim birdies at the seventh and ninth holes before an eagle at the 15th kept him well ahead of the field.
The win also allowed Woods to reclaim the number one spot in the US PGA Tour's FedEx Cup rankings going into the season-ending Tour Championship and the 33-year-old revealed that 2009 has been a vintage year.
"It's one of my best years, there's no doubt about that -- I haven't won as many times as I did in 2000 and didn't win any majors this year, but certainly I've never had a year where I've been this consistent either, this many high finishes and the number of events I've played," Woods told the U.S. PGA Tour Web site.
"To have an opportunity just about every time I tee it up to win the championship on the back nine, you know, that's something I can't tell you how proud I am of.
"Winning, that's the ultimate goal. And to play as well as I have of late and not get the W's [wins] has been a little bit frustrating, no doubt, because I've been so close.
"It's just been a matter of making a couple putts here and there and I would have won the tournaments. That's all the difference was.
"And lo and behold, boom, I hit the ball just as well, just as consistent this week, and I made a few putts, and that's how it happens. That's how close I've been to putting it together and scoring well. I've been playing well; I just haven't gotten a lot out of my rounds yet.
Woods admitted that his improved putting helped him land the title at Cog Hill and was the crucial difference in the margin of the victory.
"It was a good week and I hit the ball well but I felt like I basically hit the ball the same as I have been. The only difference is I made a few more putts this week and got some momentum," he told the U.S. PGA Tour Web site.
"As we all know, you have to make putts to win championships. This week I certainly made my share. You're not going to make every putt, you're not going to -- you're going to have stretches where that happens. I kept telling myself through those stretches, I was hitting good putts, they just didn't go in.
"So be it. As long as the ball starts off on-line and I've got my pace right, that's the way it goes. You read the putts better and eventually they'll start going in. It's just a matter of time. I was patient, and here we are."
E-mail to a friend

All About Tiger Woods • Golf • PGA Tour • Jim Furyk