(CNN) -- Floyd Mayweather Jr has predicted his comeback contest with Juan Manuel Marquez will contain "blood, sweat and tears" before ending in victory for the Michigan-born fighter.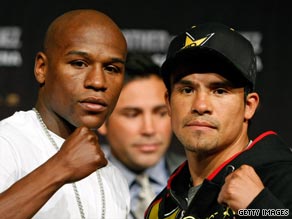 Floyd Mayweather Jr has predicted "blood, sweat and tears" in his fight with Juan Manuel Marquez.
The 32-year-old American, who has won world titles at five different weights and is recognized as one of the best pound-for-pound fighters ever, has not fought since he overcame Ricky Hatton in December 2007.
Marquez's most recent bout was against Juan Diaz in February when he claimed the vacant WBA and WBO lightweight crowns.
The Mexican is also a five-time, three-weight world champion and boasts a record of 50 victories, four defeats, one draw with 37 knockouts
Mayweather faces the Marquez in the non-title welterweight fight at the MGM Grand in Las Vegas on Saturday and was bristling with confidence ahead of the contest.
"To go down as a legend, you have to face the best in your era and Marquez is one of the best in my era," Mayweather told reporters at the pre-fight press conference.
"I have been around the sport and I have experienced many different styles, and I will adjust and adapt. Now I am back and September 19 is another big day for me.
"You can expect blood, sweat and tears on Saturday night. I predict one hell of a fight.
Don't Miss
"I have a lot of respect for Marquez. He hasn't said anything bad about me, so I have nothing bad to say about him. How can I say something bad about someone who respects my fight game?"
He continued: "This isn't going to be difficult. Nothing is difficult. I just had to get back into the groove. I had to keep working hard. I love to box. I love to go into combat.
"I am not like other fighters. Other fighters have been beat. There is no blue print to beat me. There is a blue print to beat Marquez, because he has been beaten before.
"I am a strong individual and only the strong will survive. I have the skills to pay the bills. It is not about who is the biggest. It is about who is the most skilled. When I get in the squared circle, I am going to do what I have to do to win."

Watch as Mayweather discusses the upcoming bout »
Marquez, who was due to fight 'Money' Mayweather in July before the American suffered a rib injury, revealed the respect he has for his opponent and admitted he is happy to be seen as the underdog in the contest.
"In my mind, Floyd Mayweather is the number one pound-for-pound fighter, and to be number one, you have to fight number one," he said.
"Mayweather is illusive and a counter puncher. I am going to go after him. There is a chance he might try to come after me, but I know I am going to go after him.

"I know people are betting against me, but it doesn't matter to me. I have my mind and I have my concentration, and I have the motivation to win.
"This fight is the most important fight of my career, and I am going to put everything in the ring."
E-mail to a friend

All About Floyd Mayweather • Juan Manuel Marquez • Ricky Hatton • Las Vegas • MGM Grand Garden Arena • Boxing • Professional Boxing • USA Boxing • World Boxing Council • International Boxing Federation