(CNN) -- Floyd Mayweather Jr has exclusively told CNN that his WWE and dancing talents will be put away for the time being as he prepares for his comeback fight against Juan Manuel Marquez.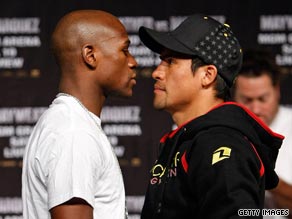 Floyd Mayweather Jr will fight Juan Manuel Marquez at the MGM Grand in Las Vegas on Saturday.
The Michigan-born fighter took part in reality television show Dancing With The Stars and also made several appearances on WWE but returns to the boxing ring for the first time since December 2007 with a non-title welterweight bout against Mexican Marquez.
Mayweather, who has won world titles at five different weights and is recognized as one of the best pound-for-pound fighters ever, was in typically bullish mood ahead of the bout at the MGM Grand in Las Vegas.
"I loved doing Dancing With The Stars and also doing WWE but boxing is my love, something that I love do and something I enjoy doing," Mayweather told CNN.
"I want to come back and display my skills for all my fans. I missed being in the sport of boxing - the sport is still in me and on Saturday night I am going to be the best I can be.
"I was in the gym every day and so I thought why not get back in there and get serious again and get back into boxing."
Don't Miss
Mayweather is confident that if he is able to box to his strengths then he will overcome Marquez who boasts a record of 50 victories, four defeats, one draw with 37 knockouts.
"Marquez is a solid opponent who is tough and he is going to be at his best and the main thing is just to be me, be focused, be smart, be sharp and go out there and execute the game plan which is to relax and be Floyd Mayweather," he said.
"He is going to bring his best, if he plays to the crowd then he can caught in the exchange but I know he is going to come to the fight.
"He is not one of those types of fighters that are going to come and lay down. I am going to go out there and be at my best and bring my best and give the fans all over the world their moneys worth.
"He is a guy that I cannot overlook. Just like me he came from small weight classes and won titles at every weight class and has dominated. He had a few of knockdowns in a row but he is a solid opponent and one of the best guys in the sport so I have to be Floyd Mayweather and do what I have to do."

Mayweather also played down talk of an inevitable showdown with Manny Pacquiao and insisted he concentrating on the task in hand.
He added: "My main focus is Marquez and I'm not thinking of another fighter. We take one step at a time. Negotiating opponents is for my advisors and team Mayweather. Me? I just beat the opponents they put in front of me."
E-mail to a friend

All About Floyd Mayweather • Juan Manuel Marquez • Ricky Hatton • Las Vegas • MGM Grand Garden Arena • Boxing • Professional Boxing • USA Boxing • World Boxing Council • International Boxing Federation