(CNN) -- Local favorite Peng Shuai thrilled a vociferous home crowd as she progressed to the quarterfinals of the China Open in Beijing by beating in-form world number 15 Maria Sharapova in straight sets.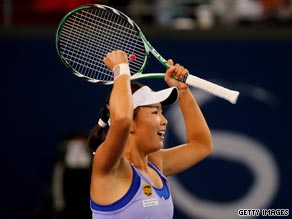 Peng celebrates her superb straight sets victory over in-form Maria Sharapova in Beijing.
Peng, ranked 53rd in the world, secured back-to-back breaks to win the first set, then raced into a 5-1 lead in the second.
Sharapova, who won last week's Pan Pacific tournament in Tokyo, launched a comeback, winning three consecutive games, but Peng broke again amid deafening noise to go through 6-2 6-4.
"I was having trouble with a few things," Russian Sharapova told reporters. "It was not my day today I guess.
"Usually I'm able to fight and get myself going when things are not going well and I was not able to do that today for some reason. I'm not sure why, but sometimes you have those days."
Li Na could not join her compatriot in the last eight, crashing to a 6-2 6-0 defeat at the hands of fourth seed Elena Dementieva.
Sixth seed Svetlana Kuznetsova also progressed, beating Alona Bondarenko 6-3 4-6 6-0, while Anastasia Pavlyuchenkova, conqueror of Venus Williams, saw off Aleksandra Wozniak.
E-mail to a friend