(CNN) -- Basketball legend Michael Jordan has caused a furor at the President's Cup golf tournament after the former Chicago Bulls player was snapped smoking a cigar at the Harding Park course in San Francisco.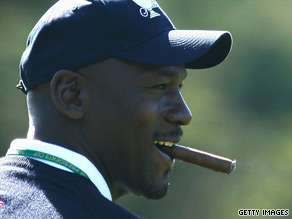 Michael Jordan smoking a cigar at the Hardin Park golf course.
Jordan -- who is acting as the honorary assistant captain for the U.S. team at the event -- puffed while playing a practice round despite the city's ban on smoking at public golf courses.
Pictures were published in the San Francisco Chronicle of the 46-year-old flouting the rules, a move which prompted city officials to request the PGA Tour to remind Jordan of the law.
"It was sort of a gentle nudge reminding them that smoking is illegal and that we would appreciate their support," Recreation and Park General Manager Phil Ginsburg told the Chronicle.
Don't Miss
The breaking of the smoking ban carries a $100 fine, however, Matt Dorsey, the spokesman for City Attorney Dennis Herrera, told the newspaper: "Just don't expect me to ask him for it."
Fred Couples invited Jordan to be an honorary assistant captain at the Presidents Cup, and the Hall of Famer spoke to reporters on Monday about his smoking.
"I heard this is a public place, so they limit what you can smoke, but this was a practice round and no one said anything," he told the gathered media.
British Open champion Stewart Cink backed Jordan despite the outcry suggesting the cigar was unlit: "The tobacco usage did become a little bit of a story out there, because I saw Michael with a cigar in his mouth that was unlit.
"He's trying to set a good example for the rest of the people who see on TV what we are doing out there, just try to set a good example and try to chew his tobacco instead of smoke it."
E-mail to a friend