(CNN) -- Swimming superstar Michael Phelps will spearhead a new international teams event to be held in Britain in December.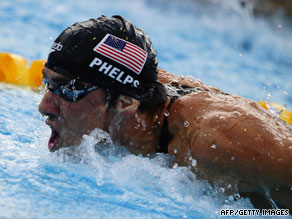 Michael Phelps is the most successful Olympic athlete of all time with 14 gold medals.
The 14-time Olympic gold medallist will be part of the United States team to take on a Europe selection made up of swimmers from the UK, Germany and Italy.
The event, called "Duel In The Pool", will take place at the Manchester Aquatics Center on December 18-19, with both teams including up to 18 men and 18 women.
It will be Phelps' first appearance in Britain, as the 24-year-old opted out of the world short-course championships in Manchester last year.
Britain's double Olympic champion Becky Adlington is looking forward to taking on the star-studded American team, with the line-ups to be confirmed next week.
"It's been an outstanding year for British Swimming with a best-ever medal haul at the World Championships in Rome and it seems only fitting to finish the year on a high with the greatest talent Europe and the USA have to offer going head-to-head," she told British Swimming's official Web site.
"To be able to watch the cream from Britain, Italy and Germany race the best of the United States, including Michael Phelps in the UK for the first time, is an amazing opportunity."
British Swimming chief executive David Sparkes said the concept had first been raised during the 2005 World Championships, and hoped it would raise the sport's profile ahead of the 2012 Olympics in London.
"We expect to host a very strong USA team packed full of mega-stars," he said.
"Alongside our own Becky Adlington, Liam Tancock, Gemma Spofforth and Jo Jackson, we will also welcome some of Europe's greatest swimmers to bring to Manchester the best swimming it's ever seen in a head-to-head challenge.
"What better preparation for all swimmers and spectators alike prior to 2012."
E-mail to a friend

All About Michael Phelps • Rebecca Adlington • Olympic Games • Competitive Swimming • United States • United Kingdom • Europe