(CNN) -- Jenson Button has emerged a surprise contender to join Lewis Hamilton at McLaren in what would be an exciting partnership for the 2010 season.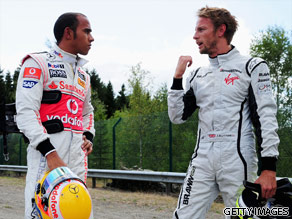 Jenson Button could join Lewis Hamilton at McLaren in an exciting partnership for the 2010 season.
Button has not yet agreed a new contract with Brawn and McLaren are interested having struggled to land first choice Kimi Raikkonen.
McLaren team principal, Martin Whitmarsh refused to rule out a move for Button and create and all-British pairing at the manufacturer.
Asked by British newspaper Daily Mail whether there had been talks between McLaren and Button's representatives Whitmarsh said: "We've talked to a number of drivers. It wouldn't be appropriate to say more than that.
"We'll hire the two best drivers available to us as we always have."
The world champion's manager Richard Goddard also refused to comment on whether he had held talks with McLaren to increase speculation.
Button, meanwhile, made a return to Brawn UK headquarters in Brackley and paid tribute to the staff behind his title-winning success.
"I'm really here to say a massive well done and thank you to everyone at the team. We've worked so hard for these achievements for so many years," Button told the Formula One official Web site.
"Some of us were here from the beginning back in 1998 and I arrived halfway through our journey in 2003 but everyone has put so much work in.
"I know that there have been a lot of very difficult times and over the winter there were times when we didn't think that we would be here at all.
"It's very sad that not everyone can be here who worked on this fantastic car. But the team had to become smaller to continue and together we produced a car that has been exceptional this season.
"To be able to achieve the constructors' and the drivers' championships in our first year, especially after such a difficult winter, is an amazing achievement. It's been a roller coaster of emotions.
"The first few races were magnificent. It looked like it was a walk in the park but it really wasn't. Then we had some difficult races, especially myself but also as a team where we struggled. But we fought back hard and when we needed to improve the car, you guys did it."
E-mail to a friend

All About Jenson Button • Lewis Hamilton • Fernando Alonso • Kimi Raikkonen • Formula One Racing • Motorsports • McLaren F1 • Mercedes-Benz SLR McLaren • Brawn GP