SA athletics chief suspended over Semenya sex tests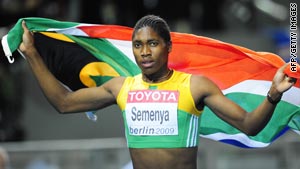 Caster Semenya stunned the athletics world when she came out of nowhere to win the 800m title in Berlin.
STORY HIGHLIGHTS
President of Athletics South Africa has been suspended for lying about Caster Semenya sex tests
The 18-year-old runner was tested by IAAF before world championships in Berlin, where she won 800m gold
Leonard Chuene at first denied knowledge of tests but then admitted he had known after event finished
ASA has also offered an official apology to Semenya and her family over its handling of the matter
(CNN) -- The president of Athletics South Africa has been suspended for lying about his involvement in the Caster Semenya gender row.
Leonard Chuene and the ASA board have been stood down by South Africa's Olympic ruling body, the SASCOC, pending a disciplinary investigation.
The 18-year-old Semenya, who won the women's 800 meters gold at the world championships in Berlin in August amid speculation over her gender, has also received an official apology from the SASCOC.
Chuene had initially denied knowing that athletics' world governing body, the IAAF, had commissioned a gender test on Semenya before the championships.
The IAAF announced on the eve of the 800m final, which Semenya won in a year's quickest time and shaved four seconds off her personal best, that it had been investigating her gender following the runner's victory at the African junior championship title in late July. The IAAF has yet to release the results of the tests.
In September, Chuene admitted he knew about the tests but insisted he had denied it at the time to protect Semenya's privacy.

Video: Semenya controversy continues

Video: Runner's gender debate revisited
The SASCOC issued its rulings on Thursday following criticism from the ruling African National Congress party, which set up a task force to probe the matter.
The ASA also issued a statement saying it would abide by the ANC's recommendations.
"Consequently, Athletics South Africa wishes to publicly and unconditionally apologize to Caster Semenya and her family, the President of South Africa as well as to all South Africans for the handling of her gender verification processes and the subsequent aftermath," it said.
"ASA's board will lead a delegation to meet with Caster, her family and government for discussions on the matter. Athletics South Africa hopes that this will bring closure to a very unpleasant episode for Caster.
"In addition, ASA are fully prepared to co-operate with any legitimate body that seeks to get closure on this sensitive matter. Further to this, ASA is willing to make presentations to the Minister of Sport and Recreation to explain the actions taken by ASA officials prior, during and after the competition in Berlin if requested."