STORY HIGHLIGHTS
On December 5, Newcastle is likely to host the biggest culture clash to hit the world of boxing
Champion Amir Khan, a fervent Muslim, will fight Dmitriy Salita, an Orthodox Jew
The boxers told CNN that their faiths teach them to be great boxers and great men
London, England (CNN) -- On Saturday, in Newcastle, England, two fighters will clash for the WBA light-welterweight world title.
The December 5 bout , on the surface, seems much like any other fight for a globally-recognized belt, but there is an intriguing religious sub-plot to the clash.
This is because reigning world champion Amir Khan is a practicing Muslim while his mandatory opponent Dmitriy Salita is an Orthodox Jew, a fact which has meant certain factors needed to be considered.
For a start, the fight is scheduled for after sundown to accommodate observance of the Jewish Sabbath by Salita, a 27-year-old Ukrainian-turned American, and a large group of Orthodox Jews from London who had already planned to attend the fight to support him.
A documentary film-maker is even flying in a group of Jewish and Muslim teenagers for a cross-cultural experience, in a bid to underline how this occasion can act as an event to promote respect rather than fulfil the "Jew versus Muslim" hype pedaled by press around the world.
It seems the only ones to insist the fight is just about boxing are Khan and Salita, who have also spoken of their great respect for each other.
The Ukrainian, who fled his country at the age of nine due to anti-Semitic discrimination, is adamant that religious differences should be left at the arena's door.
"The media shouldn't make this into something that it's not," said Salita, as he gave his speed bag a punch in his humble training ground in the hills of northeastern Pennsylvania.
Before fights I feel the most religious that I ever feel because I feel my reliance on God much more
--Dmitriy Salita
The undefeated Brooklyn boxer -- who is unbeaten in 31 fights, with 16 knockouts -- is clear that the fight should be promoted in the right way: "It would be improper, from every angle, to look at this as Jew against Muslim. That would serve absolutely no social benefit."
British fighter Khan, 22, whose religion compelled him to halt his training routine during the Muslim month of Ramadan, is also keen to avoid the religious debate.
"I've got a lot of respect for Salita for being like myself. And also when the question was raised about me being Muslim and him being Jewish, we both took it as professional fighters and said, 'Look it's a sport, we want to keep it as a sport,'" he told CNN.
Yet despite their attempts to keep religious competition away from the pre-fight hype, both are convinced their faith is a great help in the ring.
"Before a fight, it's a very spiritual experience," Salita said. "You get into yourself and you focus on the things that you need to do.
"Before fights I feel the most religious that I ever feel because I feel my reliance on God much more. If anything, my strength is my spiritual resolve."
At Khan's hometown gym in Bolton, which has been converted into a shrine to the boxer with his paraphernalia plastered all over the walls, the equally modest pugilist said: "When you go into the boxing ring it's a very lonely place. There's only you and your opponent and the trainer in the corner and the referee in the ring.
"So I really think that if you go in there in the belief that God is in there with you in the fight, it doesn't make it a lonely place."
Khan and Salita are not the first boxers to rely heavily on their faith in the ring.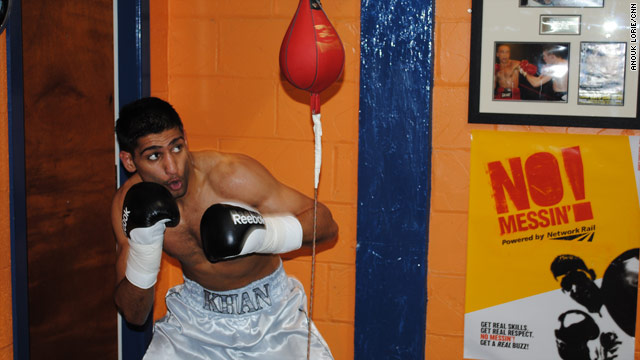 Gallery: Khan - Salita
Boxing legend Muhammad Ali is probably the most famous of a long line of fighters who draw strength from a higher source along with the world's best pound-for-pound fighter Manny Pacquiao, who is a Catholic.
However, some believe rigid religious rules can detract from the progress of a boxers' careers.
Salita's manager Israel Liberow is also the brother of the fighter's rabbi. However, he believes Salita's faith may have hindered him in the past.
"Initially he lost some television dates because in the summer he can't get onto television slots as the Sabbath comes out late on Saturdays. He also missed out a lot on ESPN Friday Night fights, which a lot of upcoming fighters get on, but that was part of the sacrifice to stay in the sport and stay observant."
Jonathan Tulkoff, Salita's friend and unofficial sponsor, said his determination not to compromise his faith made him "an inspiration."
"He's an inspiration, but also a killer," Tulkoff told CNN. "Those usually don't go together. You have to have the killer instinct to be a fighter and he has that with unbelievable compassion outside of the ring. He's a spiritual killer."
If you go in with the belief that God is in there with you in the fight, it doesn't make it a lonely place
--Amir Khan
Salita and Khan might rely on God in the ring, but Roach, who has trained 25 world champions says faith has little to do with boxing.
He recalls an incident from the time he trained Mike Tyson: "Panama Lewis, [another of Tyson's trainers] was in the dressing room before a fight with a dead chicken, a prayer bag and some special water trying to take the demons away."
The trainer, whose own boxing career likely triggered his current battle with Parkinson's disease, told CNN: "If it works for [them], well, you know it's great. But I think God has a lot more problems out there. I don't think he's concentrating on a boxing match so much.
"I respect religion, of course. But the thing is this isn't a religious contest -- it's a boxing match. You know, I don't think the guy who prays the most is going to win the fight. The guy who works the hardest is going to win the fight."