By James Montague
For CNN






LONDON, England (CNN) -- While most football fans are preoccupied with the January transfer intrigue, Israelis are facing a second week without league football after Israel's Football Association postponed next weekend's matches because of the army's operation in Gaza and Hamas rocket fire in southern Israel.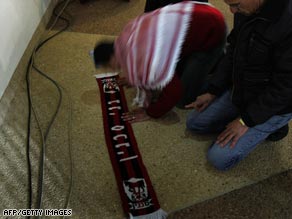 Bnei Sakhnin fans pray on their team's scarf before a game.
The IFA had already cancelled last weekend's fixtures at stadiums within striking range of rockets fired from Gaza after a rocket hit the stadium of third division club Hapoel Ashkelon in southern Israel, just before the team was due to start training.
Following the cancellations, the IFA released a statement saying "it would not be appropriate to continue holding the matches while citizens in the south of the country are under the threat of rockets and are living in shelters".
The cancellations underline the unique dangers facing fans of the beautiful game in the country.
Traditionally, the Israeli league has had some incredible rivalries on the pitch, pitting politically left against right, even Mizrahim Jews against Ashkenazim Jews. Riots were commonplace.
Football Fanzone
Football fans, the chance to have YOUR say on CNN is here!


"You have twenty teams hating the other side and maybe two or three teams supporting their own side," explained journalist Uri Misgav. "Israeli society is so tense, there are so many conflicts; religious, political, economic, social. It can get really ugly. In Israel it's not a culture of supporting, it's a culture of hating."
In recent years, however, football has become big business in Israel. A bumper Pay Per View TV deal was signed, stadiums spruced up and Israeli football experienced a new phenomenon: billionaire owners from abroad willing to pump their fortunes into newly adopted hometown clubs.
Controversial billionaire Arcadi Gaydamak - whose son Alexandre owns Portsmouth in the English Premier League - was hailed as a savior by fans after buying Beitar Jerusalem, Israel's biggest club famous for its nationalist fan base.
Gaydamak's injection of cash into the side has resulted in successive league title wins. While German billionaire Daniel Jammer bought the small coastal club of Maccabi Netanya, who are now second in the Israeli Premier League.
Yet tensions persist between some of Israel's Jewish and Arab football clubs, in particular Bnei Sakhnin, the country's only top flight Arab team. While the police and IFA were still weighing up whether it was appropriate to go ahead with next weekend's fixtures, the authorities had already made up their minds about Tuesday night's Toto Cup quarterfinal match between Bnei Sakhnin and Hapoel Ironi Kiryat Shmona.
"Matches between Arab and Jewish teams will be cancelled," Gil Levanoni, spokesman for the Israeli Football Association, told CNN. "The police intend not to let Bnei Sakhnin play. We are just following orders. They are worried about crowd trouble and don't have the police to secure the match."
Don't Miss
The remaining three quarterfinal matches were all given permission to go ahead. The IFA's decision to postpone the match involving Bnei Sakhnin highlights the tensions between Israel's Jews and the country's Arab minority.
Close to twenty percent of Israel's population is Arab and largely Muslim. Many have had a fractured relationship with their Jewish neighbors and, despite being citizens, many of Israel's Arabs feeling marginalized.
But for some, Bnei Sakhnin has offered a symbol of unity. The team is based in Sakhnin, a small Arab town in northern Galilee. The club, whose name means "Sons of Sakhnin" in Hebrew, rose through the ranks to join Israel's top league.
Although most players were Muslim, Jews and Christians also played for the side. They won popular support across Israel. The team even managed to win the State Cup in 2004 and enjoyed a subsequent brief foray into Europe by qualifying to play in the Uefa Cup-- the first time an Arab team from Israel had ever gone that far.
Yet in the league, enmity still remains largely between Bnei Sakhnin and Beitar Jerusalem. Anti-Muslim chants from fans ring out in the stadium when the two sides meet. Last year Beitar had to play a league game against Bnei Sakhnin behind closed doors after their fans sang anti-Islamic songs during a cup game. The team said it had no control over the fans.
Gaydamak, Beitar's owner, has tried to find common ground, by reaching out to Israel's Arab community. He attempted to make Abbas Suan, then Bnei Sakhnin's captain, the first Arab to play for Beitar, but vociferous opposition from Beitar fans put a stop to the plans.
He also donated close to $500,000 to keep the club afloat when Bnei Sakhnin found itself in financial trouble. Given the long-running tensions and the new conflict in Gaza, the Bnei Sakhnin side remained open to the IFA's decision this week to postpone Tuesday's game against Ironi Kiryat Shmona.
"For us it is okay not to play," club spokesman Mund'ir Khalaila, told CNN. "Our coach is Jewish and some of the spectators are Jewish. But if you have a crowd of 2,000 you cannot be sure that five people won't start trouble."
For Khalaila and others, this may be more about avoiding any more controversy and potential problems after last weekend's large pro-Gaza protests in Sakhnin.
When the football league resumes, many hope any rivalries will remain on the pitch.
E-mail to a friend