LONDON, England (CNN) -- The possible Manchester City purchase of Kaka for as much as £243 million ($363 million) has raised the bar when it comes to transfer fees in the international football market.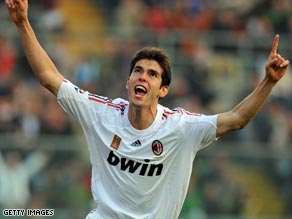 Wanted man: AC Milan star Kaka is the subject of unprecedented bids from Manchester City.
Just a few years ago it was London English Premier League club, Chelsea, who were accused of trying to "buy their way to success".
Do you think Manchester City can "buy" success? Tell us in the Sound Off box below.
Chelsea, under the ownership of Russian billionaire Roman Abramovich, invested heavily in players -- bringing in the likes of Adrian Mutu, Claude Makelele, Damien Duff, Joe Cole, and Didier Drogba.
Abramovich has poured more than £600m ($895m) into the club since taking over in 2003, and his time has brought with it plenty of trophies.
Today, it's a similar story at Manchester City, but there's a whole lot more cash being thrown around.
Having bought Robinho in the summer for £32.5m ($48.5m), City's new owner Sheikh Mansour bin Zayed Al Nahyan of Abu Dhabi appears determined to achieve success by purchasing whoever he can -- at seemingly any price.
However, the summer spending did not bring a strong start to the season for City, and they still find themselves trapped near the bottom of the Premier League table.
The answer it appears, has been to buy more big names.
But, if the Kaka deal goes ahead and there are further high-price signings, do you think Manchester City will start to win trophies? Or is money not enough to achieve success?
E-mail to a friend