(CNN) -- Premier League Manchester City and AC Milan have terminated talks regarding the proposed £100 million world record transfer of 2007 FIFA Player of the Year Kaka.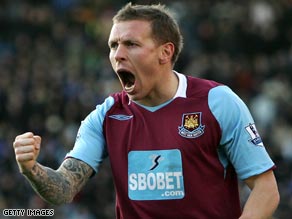 Welsh international striker Craig Bellamy has joined the Manchester City revolution on a four-year contract.
City said in a statement on Monday that negotiations had ended as there was little chance of a deal being done.
Executive chairman Garry Cook told the club's Web site: "Whilst Manchester City Football Club has an obvious interest in world-class players of the quality of Kaka, we owe it to our fans that such a transfer must work on every level; commercially, financially, in terms of results on the field and within Manchester City's broader community."
Milan owner Silvio Berlusconi had delivered the news all Rossoneri supporters wanted to hear as City posted their statement.
"Kaka is staying at Milan," PA Sport reported Berlusconi telling Italia 7 TV. "He has turned down the money and he won't ask for an increase. He prefers to stay at Milan."
Berlusconi continued: "Money is not everything to Kaka. He is staying with us, there are things which are more important than money: we are happy.
"We offered the player the chance to consider the offer and make himself a fortune, but he has higher values.
"It was down to me and also to him. When I heard he would prefer to stay, that he didn't think he would be missing a great opportunity and he prefers the values of our flag, the values of closeness and friendship, the warmth and the affection that all the fans have shown him in these days, I said 'hooray' and we hugged. Kaka is staying at Milan."
News that Kaka is staying came hours after Craig Bellamy completed a reported £14 million move to City from West Ham United.
Striker Bellamy will join his new team-mates at a training camp in Tenerife where he could be joined by Netherlands international Nigel de Jong as City's wealthy owner, Sheikh Mansour, continues to splash the cash.
Bundesliga club Hamburg have confirmed that a fee -- believed to be around £13 million -- has been agreed for 24-year-old midfield player De Jong who has yet to finalise personal terms.
De Jong, who recently returned to action after picking up a knee injury while on international duty in October, became a target for manager Mark Hughes after Lassana Diarra decided to join Real Madrid from Portsmouth instead of City.
Meanwhile, a City delegation led by Cook, was expected to meet AC Milan officials in the latest stage of their bid to sign Brazilian Kaka.
Kaka's father Bosco Leite met Cook earlier on Monday to discuss the potential transfer that could have been worth as much as £108 million to the Italian Serie A club.
Football Fanzone
Football fans, the chance to have YOUR say on CNN is here!


Milan fans staged a protest outside the club offices on Monday having already made their feelings known at the San Siro during Saturday's win over Fiorentina.
Kaka was reportedly offered a record £500,000 a week to become part of the City revolution.
"We are very much together on the fact that we want to bring one of the top players in the world to City," City manager Mark Hughes had said.
Bellamy is set to make his debut against former club Newcastle on January 28. The Wales marksman agreed to join former international manager Hughes's City on a four-and-a-half-year contract after agreeing personal terms and passing a medical.
Bellamy's speed should provide a useful threat alongside first-choice front-man Robinho -- and he is also free to play in the remainder of City's UEFA Cup campaign.
E-mail to a friend