(CNN) -- Troubled U.S. insurer AIG will end its shirt sponsorship deal with Premier League and European champions Manchester United next year.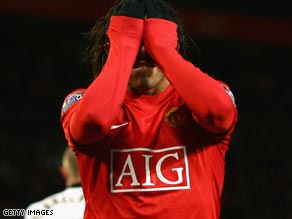 End of era: AIG will not renew its four-year sponsorship deal with Manchester United.
It was widely believed that AIG would not renew their £19 million ($27 million) per year shirt deal when the four-year contract expired in 2010, due to the financial troubles the company has suffered.
And, on Wednesday, the company confirmed this.
"AIG's shirt sponsorship with Manchester United runs through May 2010. We have no plans to renew the deal," said a company statement.
AIG is still restructuring after receiving a bail-out of $150 billion from the U.S. Government. They also have a £5 million ($6.8 million) per year deal to run MU Finance, but it is not clear what will happen with that contract.
Despite the loss of AIG, a Manchester United spokesman told the UK Press Association that the Premier League giants hoped to better the current deal it had with the U.S. insurer.
Have your say: Can football's giant salaries survive the financial crisis?
"In line with industry practice, Manchester United is exploring the possibility of a shirt sponsor for the new 2010/11 season.
Football Fanzone
Football fans, the chance to have YOUR say on CNN is here!


"The club is in dialogue with a select number of top companies worldwide and has so far received sufficient interest to be confident it can improve on its current £19 million annual partnership with AIG."
Michael Stirling, managing director of Global Sponsors, predicts United will be able to find a new sponsor who will match those figures.
"I think they will do extremely well regardless of the crisis because they have done superbly in being the world club champions. There will be a lot of interest from major brands that want to be associated with the club, no matter the price," he told CNN.
Massive Indian corporation Sahara are reported in the Indian media to be investigating the Red Devils' proposals, while Saudi Telecom is another company believed to be a potential new sponsor. World Club champions United also have strong links in both Malaysia and South Korea.
Meanwhile, AIG have insisted they will honor their four-year agreement, leaving the Old Trafford club in a better position than when Vodafone gave just six months' notice before terminating their deal in 2006.
E-mail to a friend