By Mike Steere
For CNN






LONDON, England (CNN) -- He may not be rated among the very top of the world's footballers anymore, but David Beckham still has desires to represent England.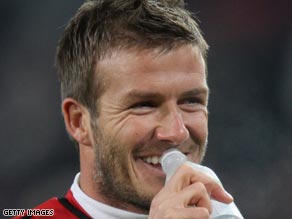 Have your say: Should David Beckham stay longer at AC Milan or go back to the LA Galaxy?
His current loan deal with AC Milan in Italy was seen as a move to keep him in contention for England selection as the national squad attempts to reach the 2010 World Cup finals.
The move to the San Siro is only meant to be two months, before returning to his Los Angeles Galaxy team for the U.S. Major League Soccer season.
However, a report in the Italian Gazzetta Dello Sport on Friday suggests that Beckham is enjoying his time in Italy, and even trying to learn Italian -- both factors they believe suggest he wants to stay with the Rossoneri long term.
Throw in a goal during the side's win over Bologna at the weekend and there's more speculation yet that he will extend his time in Italy.
It wouldn't be easy for the England international to make such a move, however. He would have to terminate his contract with the LA Galaxy -- something which could be quite costly, and would go against his public suggestions that he'd like to honor his contracts.
But, a more permanent move to AC Milan could be the best way to secure a place in the England team heading into 2010.
What do you think David Beckham should do? Tell us in the Sound Off box below.
Should he make a more permanent move to AC Milan? Or should he return to the Galaxy to see out his contract? Share your thoughts and we'll publish the best.
E-mail to a friend