LONDON, England (CNN) -- David Beckham has got what he wanted and, seemingly, has the best of both worlds.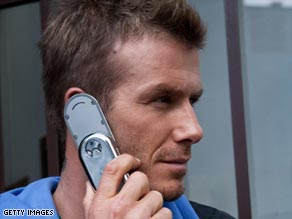 Right or wrong? What do you think of David Beckham's move?
The 33-year-old England international will stay at Italian club side AC Milan for the rest of the season and play in LA Galaxy in their season, from July to October.
In a unique 'timeshare' deal, Beckham gets to honor his contract to LA Galaxy and at the same time further his chances of being selected for the England team's 2010 World Cup qualifiers.
Since joining AC Milan on loan in January, Beckham has thrived, scoring goals and securing a regular place in the team.
By playing for LA Galaxy and Milan, it means Beckham won't have the long summer break players in Europe enjoy, but he will have shorter, mini breaks instead.
He will have some time off before rejoining Galaxy in July, and then another break before going back to Milan in November.
But could his desire to play again in competitive football and in another World Cup for England mean that he is taking on too much?
Will Beckham wear himself out playing in two leagues? Share your thoughts in the Sound Off box below
Beckham is undoubtedly fit and is renowned as one of the fittest players in world football. His record-equaling 108 caps as an outfield player for England, are testament to his longevity and the enduring quality of his performances.
Beckham and seven-time Tour de France cycling champion Lance Armstrong are among the few sportsman to complete one of the best-known measures of fitness and endurance -- the 'beep' or Cooper test, which consists of a series of shuttle runs between two fixed points 20 meters apart.
As the test progresses, the time taken to run between each point is cut, and only the very best of elite athletes can continue until the top level of 23.
But even allowing for his phenomenal fitness levels, the former Manchester United and Real Madrid star will be 34 in May, and the demands of playing almost non-stop football in two competitive leagues in Italy and the United States will prove a challenge even for super-fit Beckham.
Though it is difficult to assess any immediate impact of the decision, time will tell the full truth about what Beckham gains from the move -- and that will largely depend on what part he can play in England's 2010 World Cup campaign.
E-mail to a friend