(CNN) -- David Beckham will stay at AC Milan until the end of the Serie A season after a deal was reached with Los Angeles Galaxy, the Press Association reported on Friday.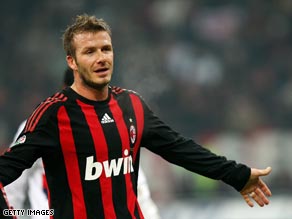 Beckham has impressed during his loan spell at Italian giants Milan.
Under the agreement, the football icon will return to play for Galaxy in Major League Soccer from July until October before returning to Milan for the remainder of the next Italian season.
The last-minute agreement to effectively "timeshare" Beckham between two clubs is also reported to have been part-funded by the former England captain himself.
Beckham was due to return to the United States on March 9 after his initial loan deal expired and Milan's match against Atalanta was set to be his last. But earlier this week Milan chairman Adriano Galliani claimed a deal allowing him to extend his stay was near.
Galliani refused to confirm the reports on Friday but said that negotiations were on the "right path." He went on: "The crucial day for the signing could be perhaps today, tomorrow or Monday."
Will Beckham be up to playing in two leagues?
Beckham has impressed since his debut for the Rossoneri in January and his form won him a recall to Fabio Capello's England squad for the friendly defeat in Spain.
Football Fanzone
Football fans, the chance to have YOUR say on CNN is here!


Beckham, who won a record-equaling 108th cap for an outfield player in the match, is desperate to retain his place ahead of the 2010 World Cup finals in South Africa for which England are well-placed to qualify.
He joined Galaxy in the summer of 2006 from Spanish giants Real Madrid in a lucrative five-year deal, but has been unable to bring them success in the MLS, missing most of his first season through injury.
Milan, knocked out of the UEFA Cup by Werder Bremen last week, will hope Beckham can help them to secure a place in the Champions League next season with coach Carlo Ancelotti under pressure for his job.
Beckham's decision to stay in Milan has found favor with his old manager at Manchester United Sir Alex Ferguson. "It is good for him, there is no question about that because it is the right type of football," Ferguson told Press Association.
"I spoke to David when he came for dinner with us in Milan. He was hoping it was going to happen and he wanted it to happen. I have no doubt it is the best thing for him."
E-mail to a friend