By Mike Steere
For CNN






LONDON, England (CNN) -- "Incredible" is how John Frisina remembers the moment he logged on to Fantasy Premier League and discovered he was beating nearly two million other competitors.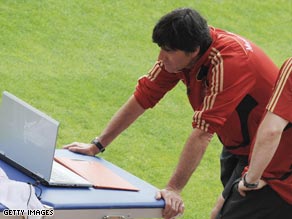 Tough task: Managing a fantasy football team can be hard when you want to get ahead of the rest.
It's the stuff dreams are made of for the millions of people managing fantasy football teams in online leagues around the world every year.
But in most players' experience, for one reason or another, the glory of victory always remains just out of reach.
It's hardly surprising, given that this year alone 1.9 million fiercely competitive fans played the game billed as "the ultimate Fantasy Football."
So, then, what separates the players who get to the top from all the rest? Is it instinct, or, maybe knowledge, or is it simply old-fashioned good luck?
Frisina, who is Australian, went on to win the Fantasy Premier League in 2007/2008, beating hundreds of thousands of would-be managers both from England and around the globe in the process.
It was the fourth year he had played the game and he says he was surprised to remain so competitive through the season.
"Really only in the last couple of years I have been in the top 200 or so. I was nowhere near the leaders before that."
Frisina felt striking a balance between superstars and cheaper players was crucial to his fantasy football success -- as was a bit of luck.
"Having a well balanced side with not too many superstars is important. I think you need to pick three or four players who you feel are undervalued and take a chance on them." Do you have any Fantasy Football tips? Share your ideas in the Sound Off box below.
For Frisina, taking a chance on players like Sunderland's Kenwyn Jones and Ryan Taylor of Wigan paid off -- and he found himself still around the top 100 by mid-season.
There were a couple of other tactics that helped Frisina rise to the top.
"I think it happened after I started watching a few more games on television. I got to see first-hand who was playing, what form they were in and I learned a lot from there. Having a good knowledge of all the players across all of the teams is really important."
Football Fanzone
Football fans, the chance to have YOUR say on CNN is here!


Checking teams for injuries and selections close to the deadline was also important, he said.
Seven weeks out from the end of the 2007/2008 season, Frisina hit the lead and managed to hold on for the rest of the season.
"I came out of nowhere really. There was one week where I just logged on to check my team and I found myself in front. It was incredible."
From out in front, Frisina said the tactics were slightly different during his once-a-week team assessment.
"I kept having a look at the guys below me and tried to keep a similar sort of team so they couldn't catch me."
Creator of the Fantasy Premier League game, Mark Hughes of ISM Games, said he had never done well in the game, but it appeared those that won followed the game very closely.
"You tend to see the same players up there year after year. They would follow the fixtures closely and know all of the players.
Hughes, despite being the brains behind the game, says he doesn't have any answers to the question of how to play world-beating fantasy football.
"I don't know if I have any secrets, though, because if I knew them I'd be a lot better at the game," Hughes said.
E-mail to a friend