(CNN) -- Former England manager Sven-Goran Eriksson has been sacked as coach of the Mexican national team after disappointing results in their World Cup qualifying campaign.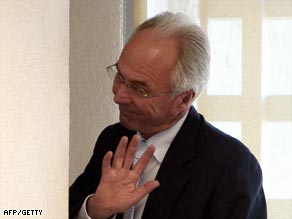 Eriksson waves farewell after the press conference announcing he was stepping down.
Mexico lost 3-1 to Honduras on Wednesday night to leave them fourth in the CONCACAF group with just three points.
Only the top three teams from the group go through to the finals in South Africa with the fourth-placed team playing the fifth best from South America in a playoff.
It was their second loss in three matches in the final phase of qualifying, with a home success over Costa Rica in the Azeteca Stadium in Mexico at the weekend easing some of the pressure on the 61-year-old Swede.
But after the latest defeat the Mexican football federation convened an emergency meeting on Thursday and Eriksson's fate was sealed.
Federation president Justino Compean told Press Association: "We said we had to take some measures because we could not take risks with qualification for the World Cup, and we could not rely solely on results at the Estadio Azteca.
"This morning we had a meeting with Mr Eriksson and although it is a shame for me and a lot of people, we told Mr Eriksson that his spell with the national team was over."
Eriksson took charge less than a year ago after parting company with Premier League Manchester City and was being paid a reported $7 million per year.
Eriksson was the first foreigner to coach Mexico for 11 years and replaced former Mexican international star Hugo Sanchez.
But he has found success hard to come by and courted controversy by including players born outside of Mexico in his squad.
After a successful career in club management, Eriksson took charge of the English national team and held the post for five years until stepping down after the 2006 World Cup where the team went out in the quarterfinals.
Returning to club football, he took Manchester City to a mid-table position in the Premeir League before moving to Mexico.
There was no immediate word on Eriksson's successor but reports linked former Atletico Madrid coach Javier Aguirre and Toluca coach Jose Manuel de la Torre with the job.
E-mail to a friend