By Pedro Pinto
CNN






LONDON, England (CNN) -- He's the most successful manager in the history of English football, winning 24 trophies in 23 seasons with Manchester United.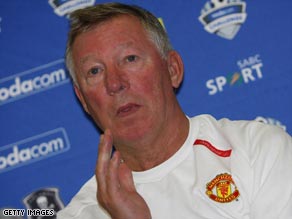 Manchester United manager Alex Ferguson is talking exclusively to CNN in a rare interview.
He's also a larger-than-life personality, who is widely considered to be the most influential man in world football.
For all those reasons and more, Alex Ferguson is hard to track down, but on Thursday he has agreed to speak exclusively with CNN in a rare one-on-one interview to be aired on CNN World Sport on Friday at 0630 GMT.
Whether you are a Manchester United fan or not, we're sure you have one or two things you would like to know about the legendary Scotsman who is taking his team on a historic drive for five trophies.
If they achieve this feat, it would be Fergie's most successful campaign ever, eclipsing the treble back in 1999.
So here's your chance to send him the questions you have always wanted to ask. Send them to us in the SoundOff box below and we will pick the best ones.
We'll of course ask him all the big questions that you would expect. What was his most memorable game? Who was the best player he ever managed and the million dollar question: How much longer he will be at Old Trafford before handing over the reins?
So don't forget to tune in to CNN World Sport to see the interview on Friday.
E-mail to a friend