CNN's Football Fanzone presents the "Blog of the month" -- profiling a different football blog every month. This month we look at: SerieATalk.com
LONDON, England (CNN) -- Few things could have created more of a media frenzy over Italian football than the David Beckham loan saga between AC Milan and the Los Angeles Galaxy.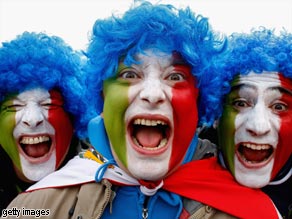 Italian football fans show their passion for the game.
This protracted storyline and the subsequent fallout from it saw readership boom on the SerieATalk.com blog -- our blog of the month.
Set up by Christopher Harris in 2007, the blog has become a full-time job for the 39-year-old American.
Harris told CNN that he has a strong interest in the Italian football scene, and with a background working in web design and marketing, that motivated him to set up his own site.
"I created it a couple of years ago -- really with the rise in popularity of Serie A. It has continued to grow, and this year the Beckham story was a large factor in that."
Harris said the rise of Italian football has helped his U.S. based blog flourish since he created it. Read the Serie A Talk blog
Rebounding from the lows of the match-fixing scandal in 2006 -- a World Cup win for the Azzurri and the arrival of top players like Kaka and Ronaldinho has seen Italy's Serie A competition once again become a force in world football.
Even today there's no shortage of issues to talk about.
With Inter Milan currently storming to the Serie A title, the ongoing David Beckham road-show, and the failure of the Italian clubs in the Champions League -- there's been plenty to discuss and debate on the SerieAtalk blog.
Harris said there is plenty of television access to Italian football matches in the U.S. and therefore there was already a base of interest on that side of the Atlantic before he began the blog.
The major goal of the blog is to present a unique perspective on some of the issues affecting the Italian game, he said.
"It's a collaboration between several writers around the world. From time to time I write ... but mainly I manage the site.
"Some of our work is talking about the media coverage of the league and looking at the big issues in a unique way," Harris said.
He said he tried to present the blog in an objective way, rather than supporting a particular club.
"I try to remain neutral and be more of an observer of the league itself."
Harris also manages a similar blog on the English Premier League -- epltalk.com.
E-mail to a friend