By Mike Steere
For CNN






LONDON, England (CNN) -- The future of Manchester United's on-loan Argentina striker Carlos Tevez is causing quite a stir at the champion English club.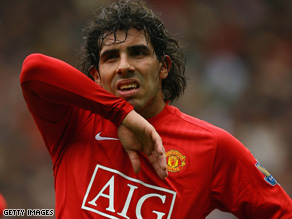 Should they sign him? The future of Carlos Tevez at Manchester United is uncertain.
Facing the question of whether to sign Tevez on a permanent basis, Manchester United fans appear to be saying "yes," while the player has talked of leaving.
The Argentina international, fondly nick-named "El Apache" by his supporters, is in his second season at Old Trafford, where he has scored 34 goals in 97 appearances.
Do you think United should sign Tevez permanently? Tell us what you think and why in the Sound Off box below.
The 25-year-old scored another vital goal for United to help them beat Wigan and all but seal their successful defense of the English Premier League.
Football Fanzone
Football fans, the chance to have YOUR say on CNN is here!


And though Ferguson remains defiant that Tevez is still his player at present who is to say what will happen in the future.
Manchester United fans have certainly let their manager know what they think.
Following the Argentine's goal chants of "sign him up" were heard from the travelling faithful.
Discussion groups have also been set up on the Manchester United page of social networking site Facebook, with the United faithful declaring their support for the striker.
Among the comments were: "We need Tevez. He always influences the game while he is on the pitch."

While another wrote: "It would truly be a mistake if Fergie lets Tevez go".
Would it be a mistake if Tevez went? Tell us what you think below.
E-mail to a friend