By Ben Wyatt
CNN





CNN -- South Korea midfielder Park Ji-Sung has made history by becoming the first player from his homeland to figure in the Champions League final, Europe's premier club match.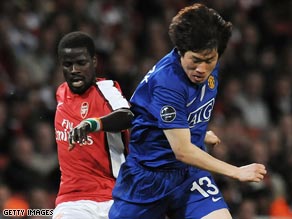 Park's opening goal in the semifinal second leg against Arsenal set the tone for United's return to the final.
However, his starting role in the match won't be one he'll remember with great fondness. His Manchester United side were outplayed as they lost 2-0 to Spanish side FC Barcelona.
Still, the loss can't take away from what was a great season for the South Korean.
Park was a key player for United throughout their European campaign this season, even scoring in his side's 3-0 second-leg win over Arsenal which sealed their passage to the final. Last year Park was a star player in the Red Devil's semifinal second-leg defeat of Barcelona before Alex Ferguson left him out of his entire squad for the final in Moscow against Chelsea.

Park Ji-Sung speaks to CNN »
It is a memory that Park told CNN he was keen to banish: "It would be amazing to me (to play) as I missed out last season. I believed I would get there again but never thought it would be so soon. Hopefully, this time I will be there."
Park attracts large audiences in South Korea where there is a large fan base for the club, a fact that has prompted Manchester United to travel to the capital Seoul in July as part of a close-season tour.

"It's not just in Korea that people will be watching (this game). It's the world's best match, and everybody wants to watch," Park said.
Park started last night's match on the right-hand side, but didn't make his most impressive performance of the year. He did look more comfortable after switching to the left in the second half.
E-mail to a friend