By Jim Boulden
CNN






LONDON, England -- (CNN) -- If you just look at the balance sheets of Europe's top football clubs, it's no surprise that Barcelona and Manchester United are in the Champions League final.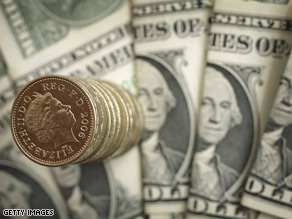 Football is big business in Europe
Let's start first with United. In that past decade, The English Premier League has exploded in terms of world wide popularity and revenue.
According to Deloitte's Football Finance team, Premier League revenue more than quadrupled from 1996 to 2009 (thanks in large part to TV rights).
In 2006/07, for instance, its total revenue was 65 percent higher than the next highest league, the Bundesliga. Within the Premier League, Manchester United is the cream of the crop when it comes to revenue.
CNN's Pedro Pinto looks ahead to the big game

While United did come second in 2007/08 to Real Madrid in total annual revenue globally, that was largely due to the fall in value of the Pound.
Don't Miss
The Red Devils make a staggering $150 million per season from match day revenue alone, due to its 76 thousand seat stadium, Old Trafford.
If you add in TV rights, the commercial deals, shirt sponsorship and the money that comes from winning so many competitions, and you can certainly argue that the Glazer family made a very good investment in buying United (after all, the club itself has been saddled with all the debt).
And it's well known that Manchester actually spends a lot less of its turnover on wages compared to many English clubs.
Barcelona and Manchester seems to compete near the top of many of the financial league tables according to sponsorship consultancy SPORT+MARKT.
Its latest tables show Barcelona gets less revenue from its larger stadium, the Camp Nou, and of course it has no shirt sponsor, since the Catalan club graciously wears UNICEF on its shirts.
Still, Barcelona is now tops when it comes to the number of fans in Europe's key 15 football markets with 42 million supporters, second only to Manchester's 37.6 million.

United makes more in turnover, but Barcelona makes more money it total broadcasting revenue, and total commercial income.
SPORT+MARKT points out that Barcelona has invested more money in new players than United over the past three years ($214m vs. $142m). Both have won their leagues this season, but only one will be champions of Europe come Wednesday.
E-mail to a friend