Barcelona coach Pep Guardiola maintains his side will go out to attack holders Manchester United in Wednesday's final of the Champions League to be held in Rome's Stadio Olympico.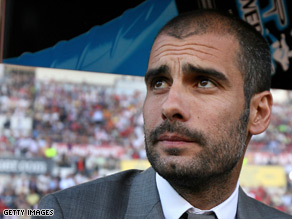 Pep Guardiola plans to attack holders Manchester United in Wednesday's Champions League final.
The 38-year-old, who has guided the Catalan side to the showpiece finale in his debut season in charge, told CNN his side would play to win.
"We are going to try and attack them as best as possible and to make problems for a big team like Manchester United.
We are so, so happy to be playing this game against them," the Spaniard said.
Guardiola will have some advantage with the location, having played there as a player with Roma in the 2002/03 season.
Meanwhile, the Barca coach will become the sixth man in history to win the trophy as both coach and player if his side is victorious.
Pep Guardiola talks to CNN

However, standing in Barcelona's way are a formidable United team who Guardiola maintains are deserving of more respect than their English counterparts Chelsea.
"There are similarities between United and Chelsea -- but I think Manchester United are much faster up front -- with Rooney, Ronaldo, Park, Tevez, Anderson.
"When we lose the ball in a difficult position they will kill us. So we have to try and retain the ball as best as possible and attack in the right way." Guardiola stated.
The Barcelona coach also has squad issues to contend with ahead of the final. Defenders Daniel Alves and Eric Abidal are both suspended for the tie while Rafael Marquez, Thierry and Andres Iniesta all struggling for fitness.
Despite this Guardiola said his tactics will remain positive: "We will decide later whether they still have problems. We have two players suspended and many injuries and their two important players for the final.

"But we can't have excuses, we have a good squad, we have good players and we are going to fight and to try and score many goals with the guys we have.
"We have to attack with the brain and pay attention not to lose balls in difficult areas."
E-mail to a friend