From Pedro Pinto






ROME, Italy -- (CNN) -- Michel Platini, the president of the governing body for European football (UEFA) has exclusively told CNN that he urges fans not to travel to the Champions League final in Rome without a ticket -- in the wake of news that a Briton needed hospital treatment after being stabbed.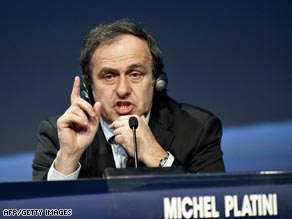 Michael Platini will have "one eye" on security ahead of the Champions League final.
Although Platini is looking forward to what he describes as a "dream" final between Manchester United and Barcelona, the Frenchman has also admitted that he will have one eye on events off the pitch, with security a prime concern of his.
"I have had bad experiences in the past," Platini tells CNN Sport Anchor Pedro Pinto.
"The Rome police will have an important role to play but there will also be Spanish and English police amongst the fans, ensuring that every security aspect is taken care of.
"Problems have arisen in the past when supporters arrive without tickets and I always tell fans to please not travel if they haven't got a ticket for the match. When ticket-less fans converge in a city, problems occur."
Platini was speaking prior to reports from the Press Association of a British man being stabbed near his hotel in the Italian capital, though he was allegedly later discharged from hospital.
A spokesperson for Greater Manchester Police in Rome told PA: "I can confirm that we have received reports of a stabbing. We have no details yet of the incident but we are making full inquiries."
The Ambulance service in Rome confirmed to CNN: "At 2.30am local time a British man was taken to the Santo Spirito Hospital after he was stabbed with a knife in his left thigh three times."
Rome's Police told CNN: "The man reported he was attacked near his hotel by four people. Police are investigating the attack."
They added that the man has left the hospital as the cuts were "minor." Separately, police said that two Britons were arrested for assaulting bystanders in Campo de Fiori.

Aside from security fears, Platini believes the whole world has got the "dream final" that everybody wanted.
"Barcelona and Manchester United are the two teams that play the most beautiful football," said Platini. "Not only are they the best two teams in Europe, but they also play the best football. "
E-mail to a friend