(CNN) -- AC Milan president Silvio Berlusconi has told Kaka that he must decide on his reported $92 million move to Real Madrid on Monday.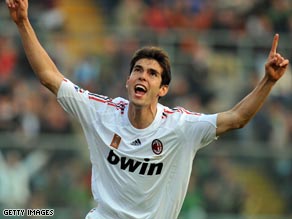 Former World Player of the Year Kaka must make a decision about his future.
The Serie A club's owner revealed on Italian television station Rai, he would meet with the Brazil playmaker at the start of next week to thrash out the former World Player of the Year's future.
Catch up on the latest football transfer gossip.
"I will speak on Monday probably," Berlusconi said on Wednesday night's Porta a Porta program. "On Monday you will all know the decision that has been taken. And to add, we will talk when we have a definite decision.

"At the moment there is no decision. On Monday I will meet with Kaka, and then we shall see. Putting aside the great friendship [with Kaka], the negotiations are in the hands of Kaka's father, he is the one who will decide. [If Kaka goes] we still have a certain Ronaldinho."
Milan chief executive Adriano Galliani said that the club had agreed to sell the 27-year-old Kaka for "solely economic" reasons: "Milan can not go on losing €70 million ($99 million) a year," he told Italian newspaper Gazzetta dello Sport on Thursday
Don't Miss
"Kaka has behaved very professionally with us, he has never asked for his deal to be revised or his contract extended. He has been here six years and won everything there is to win. But we can't afford to miss out on $100 million."
Galliani said there was no chance of English club Chelsea -- who appointed former Milan coach Carlo Ancelotti as manager on Monday -- swooping in to beat Real for Kaka's signature.
An agreement with Chelsea could not exist," he told Gazzetta dello Sport. "Kaka goes to Real or he remains at Milan. That is his will and we are doing everything in complete agreement."
Chelsea had earlier denied making any bid for the player, following British reports that the Londoners would make a world-record offer.
Earlier on Wednesday, Milan denied a Spanish radio station's report claiming that a deal had already been sealed following a meeting between Galliani and new Real president Florentino Perez.
Milan's official Web site denied the report, saying that Galliani had visited Madrid purely for a special dinner in honor of Perez, who won the recent club presidential elections.
On the Web site, Galliani also sounded a note of warning over the loss of star players from Serie A to the bigger spending clubs in Spain and England.
"I might sound boring, but today no one even dares to think that players like Messi or Cristiano Ronaldo can come to Italy," he said.
"If we don't solve these problems, we will not have the Kakas, Patos and Ibrahimovics anymore. If we go forward like this, with these stadiums, we will become a small league."
Kaka is currently in Brazil with the national team ahead of a World Cup qualifier against Uruguay, and on Tuesday had appeared to rule out a move from Italy's Serie A.
"I'll say it for the last time. The last time. I don't want to leave Milan," he told Gazzetta dello Sport. "In this period I prefer to remain silent because I don't want to be misunderstood. Or, worse still, to be used.
"To the millions of Milan supporters, I say that I have made my choice. I have said what I want to stay. Leave me in peace, please."
Last January, Kaka rejected a move to Premier League Manchester City who were prepared to pay him a reported $750,000 per week.
Kaka's former coach at Milan, Carlo Ancelotti, was on Monday appointed manager at Chelsea.
E-mail to a friend

All About Kaka (Soccer) • AC Milan • Real Madrid CF • European Football