By Tom Peck
For CNN






LONDON, England (CNN) -- Whether it be his sublime skills or serious sulks, in six years at Manchester United, Cristiano Ronaldo has been no stranger to the headlines.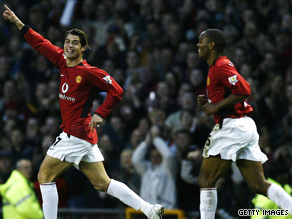 The Portuguese star scores his first goal for United. A freekick against Porstmouth in November 2003.
Born February 5 in Funchal on the Portuguese island of Madeira, he made his debut for Sporting Lisbon in the Portuguese Super Liga at the age of 17 after winning international caps for Portugal's youth sides.
Here are 10 of his greatest moments during his memorable stint in United's famous number 7 jersey.
1. The world's most expensive teenager comes on as a substitute to make his debut at Old Trafford in 2003. He was signed from Sporting Lisbon for £12.24m ($20m).
He immediately drew comparison with legendary Manchester United player George Best, another wearer of the famous number 7 shirt.
Sir Alex Ferguson hailed him a "new hero." While others praised him for an admirable "lack of histrionics." That wouldn't last.
2. Ronaldo scored his first goal for United, a free kick against Portsmouth in the Premiership on 1st November 2003.
3. Many fear Ronaldo would never play in the English Premiership again after he is believed to encourage Argentine referee Horacio Elizondo to send off Manchester United team mate Wayne Rooney in the 2006 World Cup quarter final. Ronaldo was caught directing a knowing wink at his manager.

See photos of Ronaldo's 10 great United moments »
4. After opening the scoring in the Champions League final against Chelsea in Moscow in 2008, Ronaldo looked on in horror as his penalty in the shoot-out was saved by Petr Cech.
5. But the agony was shortlived, as Chelsea striker Nicolas Anelka adds to John Terry's miss and United claim the title. Ronaldo is widely criticized for collapsing in tears in the center-circle, rather than rushing to celebrate with his team-mates.
Don't Miss
6. Ronaldo arrives at the ESPY awards in Los Angeles in July 2008. The crutches resulting from recent ankle surgery raise fewer eyebrows than his pale pink two-piece suit.
7. Police are called as, driving out of Manchester Airport, Ronaldo crashes his two day old Ferrari 599 into the wall of a tunnel. Car insurance experts suggest his premium will rocket to over £100,000: a little less than a week's wages for him.
8. Ronaldo wept as he becomes the first Man Utd. player for 40 years to receive the the Ballon d'Or World Player of the Year Award in January 209. He describes winning the award as "one of the most beautiful days of my life."

9. Man Utd. went to FC Porto's intimidating Dragao Stadium knowing they needed a win, or at least a high-scoring draw, to advance to the Champions League semi-finals. Ronaldo opens the scoring with a forty yard strike, which he says after the game is the best goal he has ever scored.
10. A decidedly lackluster Man Utd side are played off the pitch by an effortlessly superior Barcelona in the Champions League final in Rome. Ronaldo, who has worked tirelessly all night, but to little effect, removes his Runners-up medal.
E-mail to a friend