(CNN) -- Love him or loathe him, the proposed world record $130m transfer of Cristiano Ronaldo from Manchester United to Real Madrid has ignited fervent interest from newspapers the world over.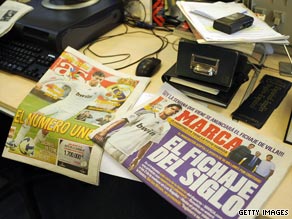 The possible sale of Ronaldo for $131m has filled unprecedented column inches worldwide
Opinion amongst the global media, both in terms of the money involved and the move itself has been distinctly divided.
ESPN's editor John Brewin observes: "At $130m, few would argue that Ronaldo has not been sold for a fair price." But adds that, "(United) will miss his talents, his ability to conjure up moments that turn a game."
In Britain, Martin Samuel in the Daily Mail commented: "Yes, the money is good, but it needs to be. United have traded their main man to a serious rival. There is no precedent for this, no moment in history to call upon to place the transfer of Cristiano Ronaldo in comforting context.
" Can you remember when it was said 'we sold the best player in the world, and it made us stronger?' No, because that never happens. Never has and never will."
But Henry Winter in the Daily Telegraph thought differently: "Think of United and many special images blur into one: the history, the ground, the support, the glimpse of Alex Ferguson in the dugout, Bobby Charlton in the directors' box and the statue of Matt Busby standing proudly outside.
"All these sights and sounds form the emotional force-field that is known as Manchester United. No player can ever dream of being bigger than that. No chance. Yet Ronaldo acted during last month's Champions League final as if marching solely to his own beat, not Ferguson's, not his team-mates'.
"It is time for United to be an 11-man team again. Thanks for the memories, Cristiano, and let's all move on."
As English football does move on however, there is little question that it has lost its brightest star. Writing in the Guardian, Richard Williams says:
Don't Miss
"The fact is that Manchester United and English football are losing their most original creative force since George Best, which hardly seems like a cause for rejoicing either at Old Trafford or beyond......"
The overall disappointment of the English press though, is more than matched by the excitement of the Spanish. Joan Poqui of El Mundo Deportivo, cannot wait for the Portuguese star to arrive:
"The months leading up to the next Barça v Madrid are going to become long ones. It will be the first Clasico with Cristiano Ronaldo and the way he is received, who has already missed a penalty at the Camp Nou, will be something to savour. Let this day arrive now please."

But as Ronaldo joins his new club, he automatically becomes a key figure in one of the world's fiercest rivalries -- that which exists between Real Madrid and Barcelona -- and can expect a hostile reception.
Directly after his disappointing showing in the Champions League Final, Catalan newspaper El Mundo Deportivo called him: "Arrogant the day before the game, a bad loser, provocative and posing during it. This guy smells of Madrid already."
E-mail to a friend