(CNN) -- David Villa scored a second half goal as Spain beat Iraq 1-0 in Bloemfontein on Wednesday to reach the semifinals of the Confederations Cup.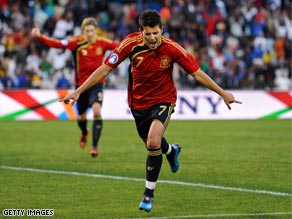 Villa celebrates his crucial goal as Spain beat Iraq 1-0 in Bloemfontein.
The win gave the European champions a record-tying 14th straight win in internationals and within one game of equaling Brazil's record 35-game unbeaten run.
Victory over hosts South Africa in their final Group A game will see Spain become the first team to win 15 straight.
In truth, it was a scarcely impressive performance by an all-star Spanish team against Asian champions Iraq who were well-organized by legendary coach Bora Milutinovic.
Spain created few chances in the first half as Iraq put nine men back behind the ball and offered little as an attacking threat.
Villa, who is set to leave Valencia with a host of Europe's top clubs in pursuit, came closest with a shot in to the side netting while Fernando Torres sliced wide with another effort.
Don't Miss
After the break, Spain were more of an attacking threat and Villa wasted a headed opportunity before made the breakthrough in the 55th minute as he met Joan Capdevilla's cross decisively after slipping between two central defenders.
Spain might have added to their tally as Xabi Alonso saw his shot saved by Mohammed Kassid and Sergio Ramos sent an effort over the bar.
Spain beat New Zealand 5-0 in their opener while Iraq can go through to the semifinals with a win over the Kiwis on Saturday.

But hosts South Africa are also in with a chance after beating the New Zealanders 2-0 in the later Group A match on Wednesday.
Bernard Parker scored a goal in each half for South Africa who move into second in the group on four points having drawn with Iraq in the tournament opener.
E-mail to a friend