By Mike Steere
For CNN






LONDON, England (CNN) -- One year before the FIFA World Cup kicks off, 26 teams of gay and lesbian footballers are battling for global supremacy in the Gay Soccer World Championships.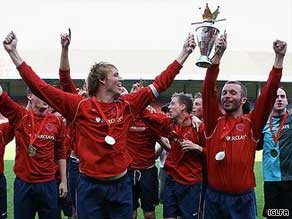 Players from the London Stonewall Lions hold the 2008 Gay World Soccer Championship trophy aloft
Co-ordinated by the International Gay & Lesbian Football Association (IGLFA), the tournament, which began on Sunday, is being hosted by the Federal Triangles club in Washington D.C., and supported by the local Major League Soccer (MLS) side D.C. United.
IGLFA spokesman Michael Pranikoff told CNN that the competition has been running annually since 1992.
"We started very small. There were just a few clubs from around the world. But we have gone from strength to strength. Last year the tournament was in London and sanctioned by the Football Association."
Pranikoff said there are no professional players involved, but the standard of play is strong and the teams in the top divisions are very competitive.
Although the tournament involves club sides -- rather than national teams, there is still a strong international feel with players from the U.S., United Kingdom, Ireland, Canada, Germany, Australia, Denmark, Belgium, Sweden, Argentina, Italy, and Norway all taking part.
The London Stonewall Lions are the reigning champions in the men's division and expected to figure in Sunday's final at Trinity Washington University, he said.
Despite the competitive nature of the event, Pranikoff said there are also less serious divisions where there is a more important message.
"When you are on the pitch it's all about the game. But it's also about providing an environment where people can be free to be who they are.
"It's a lot about camaraderie too. There are a lot of places in the world where gays and lesbians aren't accepted."
So, is the competition restricted to only gay and lesbian players?
Not at all, said Pranikoff. "It's very open, we don't discriminate."
He said gay, lesbian, bi-sexual and heterosexual players were all welcome to play.
Pranikoff said he is happy with how the 2009 event is unfolding, despite numbers being slightly down on what was expected -- due to the effects of the recession, swine flu and the upcoming Out Games in Denmark which has made attending the football tournament unaffordable for some teams.
"This year we didn't have as big a global turnout as we hoped for but there have been a lot of challenges -- so we're pleased to have 26 teams here."
Outside of organizing the current world championships, the IGLFA has also been involved in helping other organizations at stamping out homophobia, Pranikoff said.
E-mail to a friend