(CNN) -- David Beckham has come under fire from U.S. Confederations Cup hero Landon Donovan, who has accused the former England captain of showing no commitment to their club Los Angeles Galaxy.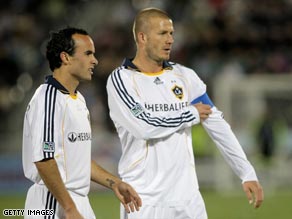 Landon Donovan, left, is unhappy with David Beckham's contribution at LA Galaxy.
National skipper Donovan, who led the United States to the final in South Africa last weekend, said in a new book due out later this month that Beckham had been a negative influence since his high-profile move to the Major League Soccer outfit two years ago.
Beckham's arrival was supposed to help lift the profile and standards of the U.S. league, but he has struggled to make an impact.
Hispanic key to success for the U.S.
Donovan said Beckham, who brokered a loan move to AC Milan last season, had shown little interest in the Galaxy since coach Ruud Gullit resigned in August last year.
What do you think? Should Beckham stay in LA?
"All that we care about at a minimum is that he committed himself to us," Donovan says in The Beckham Experiment, authored by Sports Illustrated writer Grant Wahl.
"As time has gone on, that has not proven to be the case in many ways -- on the field, off the field. Does the fact that he earns that much more money come into it? Yeah. If someone's paying you more than anybody in the league, more than double anybody in the league, the least we expect is that you show up to every game, whether you are suspended or not. Show up and train hard, show up and play hard."
Donovan, who leads the Galaxy in Beckham's absence, also cast doubt on the 34-year-old midfielder's leadership abilities.
Don't Miss
"Maybe he's not a leader, maybe he's not a captain," he said. "Fair enough. But at a minimum, you should bust your ass every day. That hasn't happened. And I don't think that's too much for us to expect. Especially when he's brought all this on us."
Beckham has brought in bigger crowds, but has made little impact on the playing field for LA since his surprise, big-money move from Real Madrid, with the Galaxy failing to make the end-of-season play-offs despite high hopes.
"When David first came, I believed he was committed to what he was doing," Donovan said. "He cared. He wanted to do well. He wanted the team and the league to do well.
"Somewhere along the way -- and in my mind it coincides with Ruud being let go -- he just flipped a switch and said, 'Uh-huh, I'm not doing it anymore'.
"He's not shown (that he's a good team-mate). I can't think of another guy where I'd say he wasn't a good team-mate, he didn't give everything through all this, he didn't still care. But with him, I'd say no, he wasn't committed."
Donovan cites Beckham's desire to move to Italy, which saw him miss half the 2009 MLS season.
"My sense is that David's clearly frustrated, that he's unhappy and, honestly, that he thinks it's a joke," he said. "I also kind of feel (he has taken the team) for granted. I don't see dedication or commitment to this team, and that's troubling."
Donovan believes it would be best if Beckham, due to make his Galaxy comeback against the New York Red Bulls on July 16 -- two days after Wahl's is published -- seal a permanent move back to Europe.
"Let's say he does stay here for three more years," Donovan said. "I'm not going to spend the next three years of my life doing it this way. This is miserable. I don't want to have soccer be this way."
E-mail to a friend

All About David Beckham • Brand Beckham • Landon Donovan • AC Milan • Los Angeles Galaxy • European Football • Major League Soccer