(CNN) -- A large-scale strike in South Africa has led to renewed fears that stadiums will not be ready for the 2010 World Cup finals.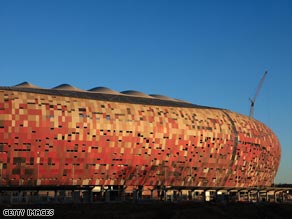 The 94,000 Soccer City in Johannesburg is the showpiece stadium of the 2010 World Cup.
About 70,000 workers have downed tools in a pay dispute after negotiations broke down earlier this week.
The workers are reportedly seeking a 13 percent pay rise and there are worries that a prolonged strike could jeopardize key projects such as the 94,000-seater Soccer City stadium in Johannesburg.
Stadiums in Cape Town and Durban are also facing a race against time to be finished by the deadline of December set by FIFA, world football's governing body.
Six entirely new stadiums are being built for the World Cup, while four are being modernized, along with a host of other infrastructure projects to help cope with the influx of nearly half a million football fans to South Africa next June.
Despite the scale of the strikes, a FIFA spokesman told CNN on Wednesday that they were confident the stadiums would be ready on time.
"We expect all the stadiums to be fully operational by the end of December," he said.
South Africa is the first African country to be awarded the World Cup finals and the main concerns have centered around crime and security as well as the readiness of the stadiums.
But a successful hosting of the Confederations Cup last month, won by Brazil, helped silence critics and local organizers have remained steadfast in their belief that they will stage a successful World Cup.
E-mail to a friend