(CNN) -- Former England national coach Sven-Goran Eriksson has returned to the country after being appointed as the new director of football of Notts County -- who play in the fourth tier of English football.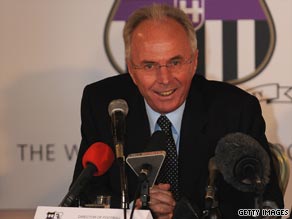 Sven-Goran Eriksson greets the media after completing a surprise return to English football with Notts County.
The Swede, who took England to the World Cup finals in Germany three years ago, arrives at the club, the oldest professional football club in the world, after being lured by new Middle Eastern owners Munto Finance.
A statement on the club's official Web site read: "Sven will assume his role with immediate effect. He will be joined by his assistant Tord Grip, who will assume the role of general advisor."
Eriksson will look after the club's youth academy as well as player development, transfer negotiations and building overseas links.
The 61-year-old told a news conference: "I am particularly attracted to this role and the unique opportunity to help build a club and legacy over the longer term.
"I will be responsible for all aspects of the football side of the club and in line with the aspirations of the new owners, wish to build the club at the heart of the community. We hope to leave a long and lasting legacy for Notts County and its fans."
"It's really great to come back to England, the weather is the same, as usual the press is the same, but I didn't expect anything else.
Don't Miss
"I always said that I wanted to come back to the Premier League because it is the best league in the world -- but I chose a little bit of a difficult way to do it. It will take some years but I'm sure, talking to the investors, we will do it.
"That's why I'm sitting here, I think it's maybe the biggest football challenge of my life to try to take, together with all the people here, Notts County to the Premier League.
"That's the target and that's why I'm here -- the challenge. It's maybe the most difficult football job I've had so far. But I'm looking forward to it and I'm very, very happy to be here."
Eriksson last worked in England when he was in charge of Manchester City, before an ill-fated spell in charge of the Mexican national side.
E-mail to a friend