(CNN) -- Former manager of the England football team, Bobby Robson, has died aged 76 after a long fight with cancer.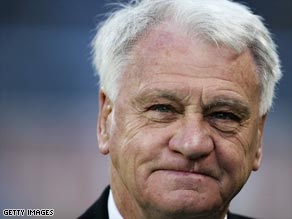 Former England manager Bobby Robson has died after a long fight with cancer.
The coach led the national side of his home nation between 1982 and 1990 , guiding the team to the semifinal of the 1990 World Cup, where his side were defeated by Germany in a penalty shootout.
Robson's curriculum vitae as a club coach was long and successful including spells with Fulham, Ipswich and Newcastle United in England, PSV Eindhoven in Holland, Sporting Lisbon and Porto in Portugal and Barcelona in Spain. What is your reaction to Bobby Robson's death?
He was knighted by Queen Elizabeth II of Britain for his services to the game in 2002. He had battled cancer five times during his life.
A media statement issued on behalf of his family said: "It is with great sadness that it has been announced today that Bobby Robson has lost his long and courageous battle with cancer.

CNN remembers Bobby Robson. »
"He died very peacefully this morning at his home in County Durham [North England] with his wife and family beside him."
As a player, Robson was a key member of the Fulham and West Bromwich Albion team during the 1950s and 1960s and also won 20 caps for England.
But it was as a manager that Robson made his mark on the game. Starting as a player-coach with Vancouver Royals in the North American Soccer League, he went on to win the FA and UEFA Cup with Ipswich Town, after a brief stint with Fulham, before taking up the role with the England national side in 1982.
Under his stewardship England reached the quarterfinals of the World Cup in 1986, where his side were knocked out by a Diego Maradona-inspired Argentina, and were then defeated in a penalty shootout by Germany in the semifinals of the competition four years later.
Don't Miss
His last job in club football was as manager of then English Premier League side Newcastle United, who he led between 1999 to 2004.
During his tenure he guided the recently relegated side, to Champions League football finishing in the top four in both the 2001/02 and 2002/03 seasons.
In a statement on the Newcastle Web site, managing director of the club Derek Llambias said: "Bobby was one of the game's true footballing legends, a unique, passionate man who gave so much to the game.
"He will be enormously missed by the whole football community worldwide and we extend our sincere condolences to his wife Elsie and family.
"We may never see his like again."
Tributes quickly flooded in from the world of football with FIFA president Sepp Blatter leading the way.
"I am deeply saddened and moved by the passing of Sir Bobby Robson, one of the greatest personalities of our game. I particularly remember how he managed to lead England to one of their best performances in history, when reaching the semifinals of the FIFA World Cup in 1990.
"He always showed great passion for the game and will be missed by all football fans across the globe. On behalf of the worldwide football family, I would like to thank Sir Bobby Robson for his memorable contribution to the beautiful game."

Manchester United manager Alex Ferguson continued in similar vein.
"In my 23 years working in England there is not a person I would put an inch above Bobby Robson. I mourn the passing of a great friend, a wonderful individual, a tremendous football man and somebody with passion and knowledge of the game that was unsurpassed," he said.
E-mail to a friend