By Pamela Rocca
For CNN






(CNN) -- The start of the new football season for most of the major leagues in Europe is just around the corner, and with the clock ticking down, a concern at the front of many managers' minds is how to get his players fit for kick off.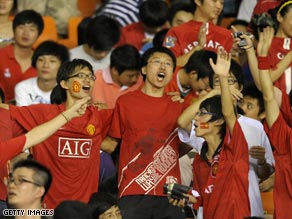 Asian fans of Manchester United take in the action at a preseason tour game in Korea.
Preseason warm-up matches have always been a key part of any side's annual timetable, enabling squads to get to peak physical levels in time for the first match.
However, where once this would entail playing sides from the club's local area, a number of Europe's biggest sides are now seeking opposition from further afield -- many jetting around the world to find teams to play.
Are preseason tours a good thing? Let us know your thoughts in the Sound Off box below.
Whether it's Barcelona traveling to play Tottenham Hotspur as part of the Wembley Cup in London, or Inter Milan flying to California to compete in the World Football Championship, Manchester United taking on FC Seoul in Korea as part of their tour of Asia or Manchester City paying a visit to South Africa -- the trend is to travel long distances for a test of fitness.
Don't Miss
But what is driving teams to undertake such arduous journeys and frenzied schedules so close to the start of a new campaign?
Much of the reason seems to be driven by business according to World Soccer magazine editor Gavin Hamilton.
"Television rights is where clubs make most money, but increasingly they're looking to sell these rights abroad," he told CNN.
"This means they have to build new customer bases in foreign countries with a view to winning over television rights in the future.
"At the moment, clubs make most of their money from fans who live very close to their ground. But in the future, they're looking increasingly to overseas fans [for revenue]."
Paul Barber, the executive director of English Premier League side Tottenham, had similar reasons to explain why his club traveled to Beijing, China for their fitness training.
He said: "Preseason offers the chance to achieve a number of different objectives including team preparation as well as for additional revenue.
"It allows us to generate further awareness of the club, which is particularly important, because we are looking for a naming rights partner for our new stadium and a new shirt sponsor.
"We believe it is very likely that these new partners will come from outside of Britain, so the chance to present our club and our team in new markets is very important. For clubs as big as we are, the revenues can be significant."
Don't Miss
With an estimated 20 million fans worldwide, Barber feels there is a duty for a club, that has benefited from the global appeal of the Premier League, to allow international fans to see the team at first hand.
Khaled Mortagey, a board member of Egyptian side Al Ahly who also took part in the Wembley Cup alongside Barcelona, Celtic and Tottenham, admitted that preseason games have a large business element.
"Football is an industry now and business and resources are very important to develop football. Money is important but doesn't come as the first priority," he said.
Ernesto Paolillo, the chief executive of Inter Milan echoed the sentiment of Mortagey.
"Sales have increased because when we go to places where we have never been before, new fans become familiar with the team and this affects our merchandising sales," he said.
"[Global tours] contribute positively to the finances of the club in the short term, and they help us develop our fan base in the long term, positively [affecting] our marketing revenues."
For Tottenham manager Harry Redknapp, the preseason tours are a reflection of how the game has become globalized in recent times.
"If you look around the world, Manchester United are in China, Chelsea are in America, everybody's jetting around the world. That's the way it is now. It's a world game.
"They love their football in China [where I went for a] tournament two years ago with Portsmouth," Redknapp added.
Manchester United are in many ways the model of a globalized football brand with millions of fans the world over.
A relentless schedule of global preseason tours -- that has included South Africa, the U.S. and South East Asia in recent years -- has seen the current English champions listed by Forbes magazine as the richest football club in the world at the end of last season, with estimated earnings of $1.8 billion.
The tours may increase turnover but there are downsides to such aggressive chasing of revenue.
As part of the preseason preparations for Scottish side Celtic, games were played in Australia and Wales, before a stop off at the Wembley Cup in London came before a crucial Champions League qualifier against Dinamo Moscow in Russia.
Manager Tony Mowbray admitted to The Times newspaper the traveling does take its toll.
"For physical preparation, I wouldn't, personally, have taken it on, but I understand why [we have to].
"Manchester United do it every year, going to Asia or America to sell their brand. The bottom line is that Celtic is a global football club that does have a lot of supporters in many parts of the world."
It seems that global preseason tours, driven by the need to boast revenue and satisfy the growing demand of an international fan base, shows no sign of ending soon even if jet-lagged players maybe a growing sight on the opening day of the European season.
E-mail to a friend

All About Manchester United • Manchester United FC • Tottenham Hotspur FC • Celtic FC • Barclays Premier League • The F.A. Premier League