(CNN) -- Arsenal striker Eduardo could face a two-match Champions League ban if European football's governing body UEFA decide to charge him with diving.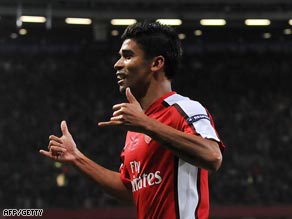 Eduardo celebrates after scoring his controversial opening goal in Arsenal's win over Celtic on Wednesday.
UEFA disciplinary officials are reviewing the incident when the Croatia striker won a penalty against Celtic on Wednesday before deciding whether he will be charged.
A UEFA spokesman told Press Association Sport: "We are reviewing the match to see whether a disciplinary investigation should be launched."
Under UEFA rules, if charged and found guilty Eduardo could face sanctions up to a two-match ban in European competition.
Scottish Football Association chief executive Gordon Smith has called for Eduardo to face action and UEFA president Michel Platini confirmed he could be suspended.
Platini, speaking in Monaco, said: "There are disciplinary procedures at UEFA and the procedure could be taken to suspend the player. Scotland often start such procedures, last time it was a Lithuania player who was sanctioned."
Platini said his plan of having two additional assistant referees, one behind each goal-line, would cut down on diving. The scheme is being trialled in this season's Europa League.
He added: "One day players will give up simulating because referees will see them. For years players have cheated because the referees were not of a good enough quality.
"I am convinced if you have referees close by that will prevent players from simulating and players will take the right decision. I have always said better to have more referees than a multiplication of disciplinary procedures," Platini continued.
SFA chief Smith wants UEFA to act retrospectively to punish Eduardo in the same way they dealt with Lithuania striker Saulius Mikoliunas, who cheated to earn a spot-kick against Scotland at Hampden Park in September 2007.
Video evidence was used to sanction Mikoliunas, who was banned for two matches. Smith said: "Eduardo is a terrific player who has battled back from a serious injury to resume playing at the highest level.
"However, last night he showed disrespect to the game by his actions in winning a penalty against Celtic.
"Since I came into this post, I have raised the issue of simulation time and time again -- both here in Scotland and with FIFA and UEFA.
"I don't think that I have received enough support in my efforts to eradicate what I believe to be one of the most serious threats to the integrity of football. Last night showed exactly why we must take this issue seriously.
"We have shown the courage to use retrospective punishment when it comes to simulation and I would urge UEFA to do so in this instance. Everything that can be done to stamp it out must be done -- starting right now.
"Last night's incident also brings the whole issue of video evidence to the fore. I see absolutely no reason at all why we cannot use technology to assist referees -- particularly in live games.
"I know that some people say that TV evidence would damage the flow of a game, but I believe the proposal that I put forward to both FIFA and UEFA whereby football would adopt a similar approach to tennis in offering a set number of challenges can work."
E-mail to a friend