(CNN) -- Michel Platini, the president of the governing body for European football (UEFA), has revealed plans to bring in new financial regulations to prevent clubs spending beyond their means in a bid to curb the debt within football.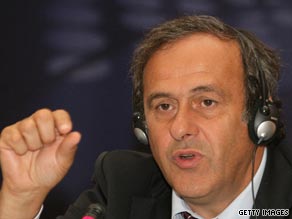 UEFA president Michel Platini announces vision to curb debt among Europe's top clubs.
Platini laid out his idea of "financial fair play" at the Champions League draw in Monaco -- stating that under proposed new rules clubs would only be able to spend on players and wages what they earn through gate revenues, merchandise, and money from television and sponsorship deals.
Those clubs who failed to break even would face expulsion from European competition as a penalty.
Despite most of Europe's top clubs -- including Real Madrid, Liverpool and Manchester United -- being saddled with huge debt, Platini confirmed his intention to implement the proposals by 2012.
"The clubs simply can't spend more than they generate by way of income. We have three years to see how clubs can get back to break even," Platini said.
"If a club can get loans from a bank to buy players and then pay it back, that is not a problem.
"If a club gets a lot of money in subsidies from a big backer and is still in deficit in two years, that is a problem and we don't like that."
Don't Miss
Platini explained that an independent panel would be created to pass judgment on whether clubs had broken the rules.
"I do not want to be a UEFA president who, during his term of office, sees prestigious clubs that form part of our sport's heritage disappear from the football map due to bankruptcy," he said on UEFA's official Web site.
"I do not want to be a UEFA president who, during his term of office, does nothing to curb certain abuses and turns a blind eye to certain risky management strategies.
"The idea is therefore to put in place a series of measures over the next few years in order that, in the long run, clubs do not spend more money than they earn. It is a short and simple phrase, but it will have huge consequences in producing healthy club football that can look forward to a prosperous, honest future.
"Financial fair play will enable us to introduce greater integrity, fairness and transparency in football. Financial fair play is a question of morality, ethics and common sense."
Platini first raised the issue when Chelsea and Manchester United brought their sizeable debts to an all-English Champions League final in May 2008.
The proposal would also mean owners such as Manchester City's Sheikh Mansour would be unable to provide their clubs with massive cash injections.
But Platini maintained he has the backing of Chelsea owner Roman Abramovich and other rich club owners.
He added: "It's mainly the owners that asked us to do something - Roman Abramovich, Silvio Berlusconi, Massimo Moratti, They do not want to fork out from their pockets any more.
"I have told Mr Abramovich about this and he said nothing against it."
E-mail to a friend

All About UEFA Cup • Michel Platini • Manchester United FC • Manchester United • Liverpool FC • Chelsea FC • Roman Abramovich • Real Madrid CF