(CNN) -- English Premier League side Arsenal have won their appeal against the two-match ban awarded to Eduardo -- governing body UEFA have confirmed.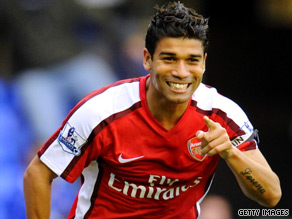 Eduardo is now free to play in Arsenal's next two European matches after his suspension was overturned.
The Croatia striker was suspended for allegedly diving to win a penalty against Celtic in their Champions League qualifier at the Emirates at the end of August.
Eduardo successfully converted the spot-kick and the Gunners went on to win the game 3-1.
However, Scottish FA chief executive Gordon Smith was quick to call for action against Eduardo and UEFA subsequently began an investigation, which Arsenal manager Arsene Wenger lambasted as a "witch-hunt".
The London club lodged an appeal against the ban which would have ruled the player out of the games against Standard Liege on Wednesday as well as the home match with Greek side Olympiacos in a fortnight.
However, UEFA have now announced the ban has been quashed. A statement on their official Web site read: "The UEFA Appeals body have accepted the appeal lodged by Arsenal FC against the two-match suspension handed to striker Eduardo.
Don't Miss
"Following examination of all the evidence, notably the declarations of both the referee and the referees' assessor, as well as the various video footage, it was not established to the panel's satisfaction that the referee had been deceived in taking his decision on the penalty.
"Therefore, the decision of the UEFA Control and Disciplinary Body, in which the player was suspended for two UEFA club competition matches, is annulled."
Arsenal had been furious with the initial ban and welcomed UEFA's action. A statement on their official Web site read: "We are grateful that the appeal body focused on the evidence and made the right decision in this case.
"We were able to show that there was contact between the goalkeeper and Eduardo and that the decision of the UEFA disciplinary body should be annulled.
"We fully support the drive for fair play in football and believe it is important that UEFA provide clear and comprehensive standards that will be consistently enforced going forward.
"We are glad to put this incident behind us and concentrate on the games ahead."
E-mail to a friend