By James Montague
CNN





(CNN) -- Picture the scene: your star striker is bearing down on goal, seconds before the end of a crucial, season-defining match. A heavy touch takes him away from the danger area but, thanks to the attentions of a nearby defender, a tenuous fall to the turf procures a dubious penalty.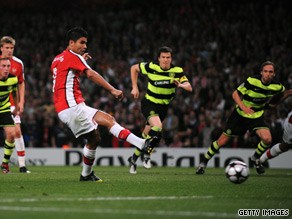 Arsenal striker Eduardo converts his controversial penalty against Celtic.
As a fan, how do you react? Chances are, if the striker was on your team, and you go on to win the match, you'll regard it as a sublime piece of gamesmanship. If you're rooting for the opposition then you'll have one, angry, word on your lips: 'dive'.
The issue of diving has once again hit the headlines. It's a debate that has inflamed the press, players and public alike after Arsenal's Croatian striker Eduardo won a penalty following minimal contact with Celtic's goalkeeper in a UEFA Champions League qualifier in August.
UEFA charged Eduardo and banned him for two games, before rescinding the ban. But by then the damage had been done. Cue a furious debate over Eduardo's actions, with almost universal condemnation in the British press and beyond over his actions. UEFA's attempted censure gave a European imprimatur to the furore.
What do you think? Is diving always wrong?
Don't Miss
But is it always right to see simulation in such black and white terms? Many footballing cultures openly admit that twisting the laws of football is part and parcel of the game.
Eduardo's Dutch teammate Robin Van Persie became the first player after the controversy to admit that footballers 'play' for a foul. "Sometimes...you are right to show, in a way, to the ref you are pushed," he told a press conference. "That's not really diving."
Van Persie was touching on a grey area that many in the game openly exploit. Italian football, in particular, has long been famous for skirting on the edge of legality in a bid to win matches. It is known as 'furbizia', or cunning, and it is a concept that runs deep in Italian football.
"It means being crafty, avoiding responsibility, getting around the law," explained John Foot, Professor of Modern Italian History at University College London and author of Calcio: a History of Italian Football. "This is really seen as a positive thing in Italy [and] goes back to the idea that winning is what matters. Rules are flexible and made to be broken. So diving is defined as furbizia, and is ok as long as it works."
Problems arise when two sporting cultures collide. "Different cultures have different sporting histories and see the game differently," said Foot. "In Italy simulation or furbizia is another string to your bow. It is not seen as wrong in itself. In the UK this is reversed. Fair play, however defined, is seen as part of the game, and sometimes more important than winning."
One player who has experienced both footballing cultures, in the English Premier League and Italian Serie A, understands furbizia better than most. In his book The Italian Job, co-written with Italian journalist Gabriele Marcotti, former Chelsea striker Gianluca Vialli evokes the spirit of Machiavelli to explain this grey area.
"Machiavelli would have commended a successful dive to win a penalty if it is decisive and the player gets away with it," wrote Vialli. "He would also have pointed out, however, that diving to win a penalty...is something to be done rarely but with full conviction."
Italy is far from the only country to have a more fluid relationship with football's so called darker arts. Across South America diving is treated much the same. In Argentina 'viveza criolla' describes a bending of the rules for your own ends, or a form of cunning, be that getting a man sent off, diving or scoring a dubious goal. The most famous example was Maradona's 'Hand of God' goal, scored against England in the 1986 World Cup finals. For the English it was the epitome of cheating; In Argentina, Maradona was feted for his audacity in conning the referee.
It is doubtful, of course, whether there would have been such a furious reaction if it was England's star striker, Gary Lineker, who had scored with his hand. Which begs the question: is it only the loser who bemoans the existence of diving?
"Machiavelli's message on cheating is this: only do it when the reward far outweighs the risk, when you are confident you will not be caught and, above all, do not do it often," Vialli wrote. "Which all seems very rational to me."
In other words, the dive is a sparsely used weapon in a footballers armoury that, if successful, will always be welcomed by half of the stadium. The winning half, that is.
E-mail to a friend