(CNN) -- FIFA vice-president Jack Warner has cast doubts on England's 2018 World Cup bid, after watching their rivals advertize under their noses.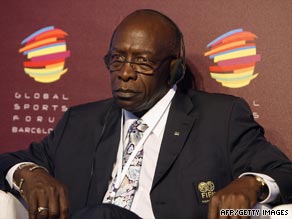 FIFA vice-president Warner has voiced his concerns about England's bid for the 2018 World Cup finals.
Warner was speaking at the Leaders In Football summit at Stamford Bridge, Chelsea, where all guests were given a free bag promoting Australia's bid for the 2018 and 2022 World Cups.
After criticizing the bid earlier in the week, Warner went on to suggest David Beckham or a figure such as the Queen could play a role in bringing the tournament to England by visiting relevant decision makers.
"I came here and was shocked that I got a bag for Australia at the entrance," said Warner, who holds three votes as CONCACAF president and could influence another two.
"I wouldn't have allowed it. Why isn't there a bag for England? People are looking at these things and asking themselves questions.
"My colleagues are saying very quietly that the guys who are coming to them are lightweight. This is the type of thing that loses you a bid.
"You have to look at what others are doing and also be creative yourself, these things are not happening."
Don't Miss
Warner feels England could be successful if they use their attributes and become more aggressive. "I feel England do not exploit their attributes. I would take Beckham and make him my ambassador in countries where people are going to vote," he added.
"England's attributes surpasses any other country. I would have been more aggressive in the market place. If I had the Premier League, Beckham and the Queen, there would have been many things I could have done for the people who are voting.
"I am saying if they do not get their act together they will lose. You have no divine right to anything -- you have to earn it."
However, Lord Triesman, chairman of England's 2018 bid, has attempted to limit the impact of Warner's scathing assessment.
Triesman told reporters: "His initial advice was not to do what we did in our 2006 bid, going round getting in people's faces and making assumptions.
"He said we should go around and listen to people and get to know the 24 members of the FIFA executive committee. It was always going to be a campaign where we would move onto a higher profile. He's making a point that we need to get to that place."
E-mail to a friend