From CNN's Christian Purefoy






LAGOS, Nigeria (CNN) -- Using two makeshift goal posts, young men of all ages, sizes and tattered clothes push and kick each other to snatch a winning goal over their neighborhood enemies.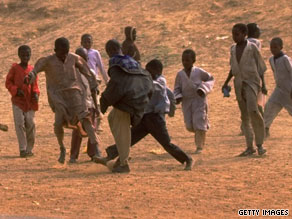 Lagos officials hope that the street football tournament will keep kids out of trouble.
On this small, dusty sports ground, surrounded by an encroaching tide of crude wooden buildings in the over-crowded Nigerian city of Lagos, the young men of Ajegunle district shout at each other -- not just for the love of the game, but to unwind from the daily street hustle.
"We come here sometimes to play away from the problems -- to have fun, to forget our problems," explains one of the young players, called Goodhope.
"Kicking, knocking anyhow, sort of rubbish football we play -- but we like it!" pants another, Gideon Oluwole.
And now the Lagos state government is trying to harness this street spirit by organizing its "Mega-City Street Soccer" competition.
With 542 five-a-side teams said to be competing, the government and private sponsors are offering $10,000 for first prize.
Officials are hoping to keep the young men of Lagos off the streets and out of trouble, and encourage a local community spirit among the city's estimated 15 million inhabitants.
"The percentage of people playing is less than 2-3 percent of the entire population, but people present and watching for every 10 men on the field playing... you probably have 2000 watching -- and this is replicated across 20 sports fields," explains Ademola Adele, Lagos's Sports Commissioner.
With few other opportunities available, many of the young men in Lagos see football as a way to a better life.
The government has constructed several new sports facilities across the city, most notably in Lagos Island district with a refurbished stadium with new Astroturf -- where the competition kicked off.
This is the second year of the competition, and last year's best player, Innocent Erusiafe, who demonstrated his skills with his team at the tournament kick-off, now has a contract with a Brazilian team.
"I feel great and excited, the first time I was picked in Brazil to go for a trial with a club called Ole Brazil -- I was overwhelmed, I was very, very happy," he said.
But so far, the young men of Ajegunle playing on their dusty home-made football pitch have only more promises of development.
"It's our desire. We will not score ourselves, but what is important is that you have the desire to develop the place," explained Dikin Nwabueze, vice-chairman of Ajeromi-Ifelodun local government.
But for 17-year-old Adewale Adeyanju, who hopes his 'street team' will win this year's competition, street soccer is not about the facilities.

"My friends -- if I play in a competition and don't have any money -- they will contribute the money, give it to me as a support, go, 'We believe in you.' That's why I say my friends are always there for me," he said.
Whatever the final score, Adewale and his friends are facing the challenges together.
E-mail to a friend